Two Missouri Journalism Students Named Winners of the $4,000 Rehab A. El-Buri Foundation Scholarship
Columbia, Mo. (Dec. 17, 2012) — The foundation established in honor of Rehab A. El-Buri named Fareeha Amir and Garrett Richie as the first recipients of the Rehab A. El-Buri Journalism Scholarship.
Amir and Richie are students at the Missouri School of Journalism. Each will receive a $4,000 scholarship for the upcoming academic year. Attending the dinner held in honor of the recipients were three of El-Buri's former professors: Brian Brooks, professor emeritus; Lynda Kraxberger, associate dean for undergraduate studies; and Jen Reeves, former professor of radio-television journalism.
Amir, a junior from St. Charles, is a photojournalism major. She plans to work as a photographer for a Muslim magazine and to freelance for nonprofit organizations. Fareeha said she appreciates what El-Buri's foundation does for students and the community.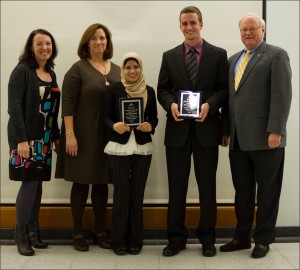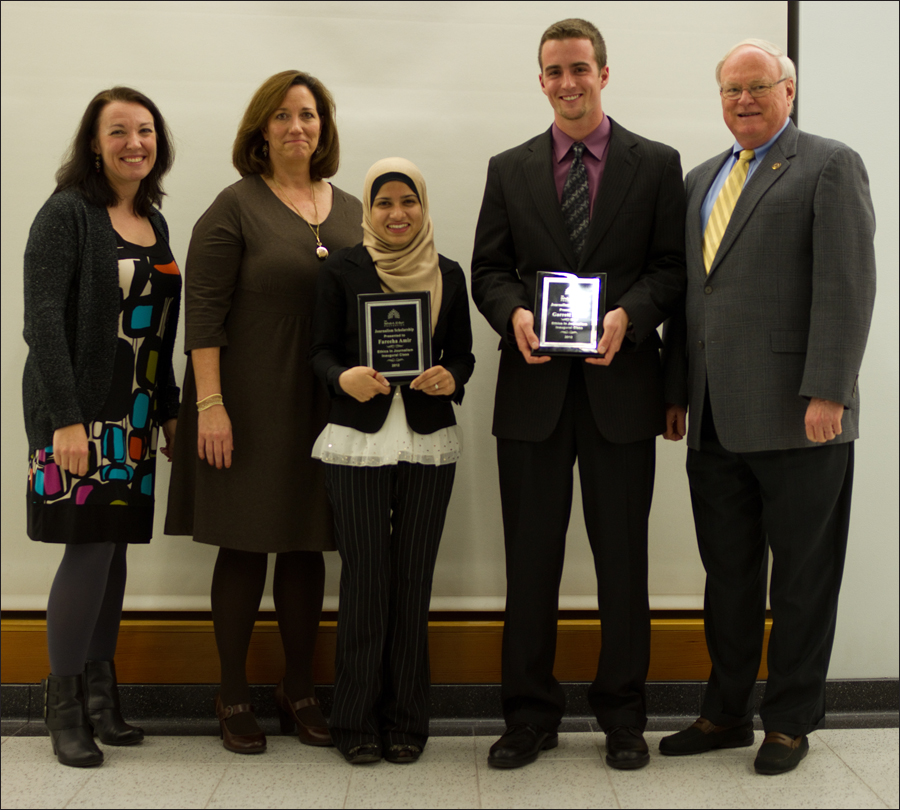 "Because of this scholarship I am able to have a new role model, Rehab," said Fareeha. "And I hope that with this scholarship, I'm able to give a voice to the voiceless, just like her."
Richie, a junior from Detroit, is a dual major in magazine journalism and English. He plans a writing career. The monies will allow Richie to study abroad in Pamplona, Spain, in the spring.
"I'm really grateful to the Rehab A. El-Buri Foundation for the great work they're doing to honor Rehab and for the doors they're opening for young journalists like Fareeha and myself," he said.
The six-member scholarship selection committee chose the two from a pool of nearly 40 applicants. With the original intention of choosing one winner, the committee reviewed transcripts, personal statements and an ethics essay as part of the application. After examining the work and narrowing the decision down to Amir and Richie, the committee ultimately decided that two scholarships should be awarded this year. The committee included two professors from the School, two current students, one former journalist who was a colleague of Rehab's and one family member.
"Both of them showed great skill, and a tremendous amount of potential," said Zaied Abbassi, El-Buri's husband who serves as president and chairman of the foundation. "We feel extremely fortunate for the opportunity to support the growth of these two impressive, aspiring journalists."
The Rehab A. El-Buri foundation was established in honor of a tenacious young journalist, whose remarkable curiosity and intelligence defined a career that carried a significant impact, yet was far too brief. With a bachelor's degree from the Missouri School of Journalism, El-Buri, BJ '06, went straight to network television news where her reporting and production skills were an asset to the ABC News Investigative Unit. Rehab covered a wide range of stories that were featured on ABCNews.com, Good Morning America, World News with Charles Gibson, 20/20 and Nightline. Through her dedication to the principles of justice, fairness, honesty, and balance, El-Buri demonstrated an exceptionally high level of professionalism and utilized her journalism acumen as a tool to empower others. El-Buri died of cancer in 2011 at the age of 26.
"I was lucky to have taught Rehab when she was entering our broadcast journalism program years ago," said Kraxberger. "Through her life, she showed mental toughness and conviction and made a lasting impression on those who will follow in her footsteps."
Updated: July 13, 2020
Related Stories
Expand All
Collapse All
---