The Press Club of Metropolitan St. Louis and the St. Louis Post-Dispatch Create an Annual Scholarship in Memory of David Lipman, BJ '53
St. Louis (April 2, 2009) — The Press Club of Metropolitan St. Louis and the St. Louis Post-Dispatch have created a new scholarship in memory of David Lipman, BJ '53, a longtime reporter and editor for the newspaper. The $5,000 scholarship will be awarded for the first time this fall to a Missouri School of Journalism student.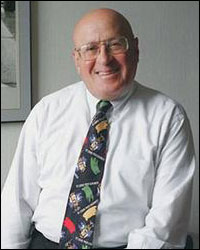 Alice S. Handelman, BJ '65, immediate past president of the Press Club of Metropolitan St. Louis, called Lipman a "St. Louis treasure" and said they are proud that his legacy will be carried on by this annual scholarship at the School.
"David Lipman was a man who represented the epitome of high-quality print journalism. He was president of virtually every press affiliation in the state of Missouri and received the majority of prestigious awards and sought-after accolades in journalism," said Handelman.
Dean Mills, dean of the School, expressed appreciation for this opportunity to honor Lipman while helping talented aspiring journalists.
"David was a gifted journalist, dedicated to the profession and the public it serves," said Mills. "He was also unstintingly generous to his alma mater with his time, his sound advice and his boundless energy," said Mills.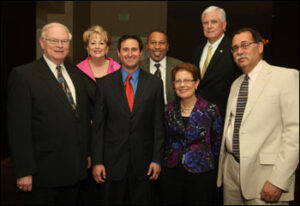 Lipman retired in 1997 after 37 years with the Pulitzer Publishing Company. During that tenure he served as assistant sports editor, news editor, assistant managing editor and then 14 years as managing editor of the St. Louis Post-Dispatch. The newspaper transitioned from hot metal to a highly sophisticated electronic production process during his career. Previously Lipman served as sports editor for the Jefferson City Post-Tribune, sports editor and general news reporter for both the Springfield Daily News and Leader and Press as well as general assignment reporter and copy editor for The Kansas City Star.
In 1997 the University of Missouri awarded Lipman an honorary doctorate in humane letters for his outstanding career in journalism. In 1989 he received the Missouri Honor Medal for Distinguished Service in Journalism. Lipman was an active member of the Press Club of Metropolitan St. Louis and a past president of the Missouri Press Association.
Jim Sterling, who holds the Missouri Community Newspaper Management Chair at the School, remembers Lipman as one who was always ready to help the University of Missouri. The two served together on various MU alumni and journalism committees as well as the MPA board.
"All you had to do was call David. I don't think he ever said no to MU," Sterling said. "He loved his University and his state. A remarkable man, a great writer and terrific editor, David Lipman was one of a kind."
To be considered for the "Press Club of Metropolitan St. Louis/St. Louis Post-Dispatch David Lipman Scholarship at the Missouri School of Journalism," applicants must apply through the MU Office of Student Financial Aid and meet the following criteria:
Be enrolled in the Missouri School of Journalism.
Have a permanent address in the bi-state St. Louis metropolitan area.
Be interested in a career in newspaper journalism.
Preferably major in the print and digital news emphasis area.
Be a rising junior or rising senior.
Maintain a minimum GPA of 3.0 on a 4.0 scale.
Updated: May 1, 2020
Related Stories
Expand All
Collapse All
---