Journalism Student Participates in McNair Scholars Program
By Madison McGinnis
MU News Bureau
Columbia, Mo. (May 10, 2005) — Karen Mitchell, a senior in the Missouri School of Journalism, recently participated in the McNair Scholars program at the University of Missouri-Columbia. The program, named for the NASA mission specialist who died in the Challenger space shuttle accident in January 1986, prepares talented undergraduate students for doctoral studies through participation in a research internship under the guidance of an MU faculty mentor.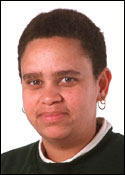 "The McNair Scholars Conference provides an opportunity for the McNair Scholars to share their research and scholarly work," said Vicki Curby, director of MU's McNair Scholars Program. "It also gives them practice in developing the presentation skills they will need in graduate studies and in their careers."
The McNair Scholars Program continues to be an important part of MU's effort to encourage greater participation in graduate studies among ethnic minorities and first-generation college students, Curby said.
The McNair Scholars Program is completing its 16th year at MU. This graduate school unit is funded by the U.S. Department of Education under the federal TRIO Programs. The MU McNair Scholars Program offers internships either for the academic year or for the summer session. During the internship, students receive hands-on experience in their chosen field of study. By working with a faculty mentor in a research internship, the students learn to understand what the life of a research scholar entails. The experience also helps them develop critical thinking and research skills.
Mitchell left the Des Moines (Iowa) Register in 2000 to join the Associated Press in New York and covered the World Trade Center tragedy. She transferred to the Chicago Bureau before coming to MU in 2003. Mitchell's project researched images of African Americans in the Pictures of the Year archive; she specifically looked at photographs shot for newspapers that won awards. Mitchell's mentor was C. Zoe Smith.
"The program was excellent. I learned so much this year and feel so well-prepared for graduate work," said Mitchell. "I'm excited to either extend the work I did through McNair or do one of the related research topics for my master's thesis."
Updated: April 7, 2020
Related Stories
Expand All
Collapse All
---