Associate Dean for Undergraduate Studies Wins $10,000 O.O. McIntyre Professorship
Columbia, Mo. (May 28, 2008) — Brian S. Brooks, associate dean for undergraduate studies and administration at the Missouri School of Journalism, won the 2008 McIntyre Professorship for excellence in teaching. The professorship comes with a $10,000 salary supplement for the next academic year.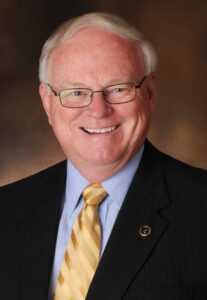 Brooks came to the School in 1974 after working in Vietnam as the information officer for the 1st Cavalry Division, a position in which he earned a Bronze Star. He also previously worked at the Memphis (Tenn.) Press-Scimitar as a reporter, copy editor and night city editor. Brooks earned both his bachelor's and master's degrees from the School in 1967 and 1969, respectively. During his 33-year tenure as a faculty member, Brooks has served as both news editor and editor of the Columbia Missourian, the School's daily community newspaper staffed by students, in addition to positions as director of the Journalism Network and chairman of the School's newspaper journalism emphasis area. Brooks was named associate dean for undergraduate studies and administration in 2003.
Throughout the years, Brooks has mentored hundreds of students. Michael Chesney, BJ '08, has been one of them.
Brooks is director of the Walter Williams Scholars Program, which recruits high-achieving journalism students from around the world. Chesney, originally from Dresher, Pa., met Brooks as a prospective Walter Williams Scholar during his senior year of high school. In spite of having tempting offers from several other universities, Chesney chose the Missouri School of Journalism after meeting with Brooks in his office and hearing why MU was the right choice.
"The great thing about Brian is that he's not the kind of dean who sits up in some administrative tower and looks down on the school below," said Chesney, who soon will be starting his first job as a general assignment reporter for FOX 7 in Evansville, Ind. "He's always around talking to students and working with professors. And I know that if I need to talk to him, his door is open."
Chesney, who graduated with majors in radio-television journalism and political science, said that Brooks has become a lifelong mentor.
"Having Brian as a friend and a guide helped point me in a direction that guaranteed my time at Mizzou would be worthwhile."
Brooks' many honors include being named Outstanding Faculty Member by the University of Missouri's Greek system; bringing a $15 million grant from the IBM Corporation to the School from 1989-1997; and winning the Department of Defense Civilian Distinguished Service Medal for his work as editor of Stars and Stripes, the U.S. military newspaper in Europe, from 1997-1999. Additionally, Brooks has served as deputy director or director of the Dow Jones Newspaper Fund editing internship at the School for more than 30 years.
Brooks said he was thrilled and flattered when he learned that he had been selected for the professorship.
"I have given most of my adult life to the School of Journalism, and I have enjoyed almost every minute of it," he said. "What makes this place special is the people – our stellar faculty, our hard-working staff and our terrific students."
About the O.O. McIntyre Professorship:
The professorship is named for O.O. McIntyre, one of the most widely known New York columnists during the 1920s and 1930s. His column, "New York Day by Day," was syndicated to 508 newspapers in every state, Canada and Mexico. Born in Plattsburg, Mo., McIntyre was raised in Gallipolis, Ohio, where he got his start in newspapers as a reporter for $5 a week. McIntyre died in 1938, and his widow left part of his estate to the Missouri School of Journalism. In her will, she established the O.O. McIntyre Postgraduate Writing Fellowship to help aspiring writers and the O.O. McIntyre Professorship to recognize outstanding educators.
Winners of the O.O. McIntyre Professorship are:
Updated: August 28, 2020
Related Stories
Expand All
Collapse All
---