Yong Volz awarded 2022 O.O. McIntyre Professorship for Teaching Excellence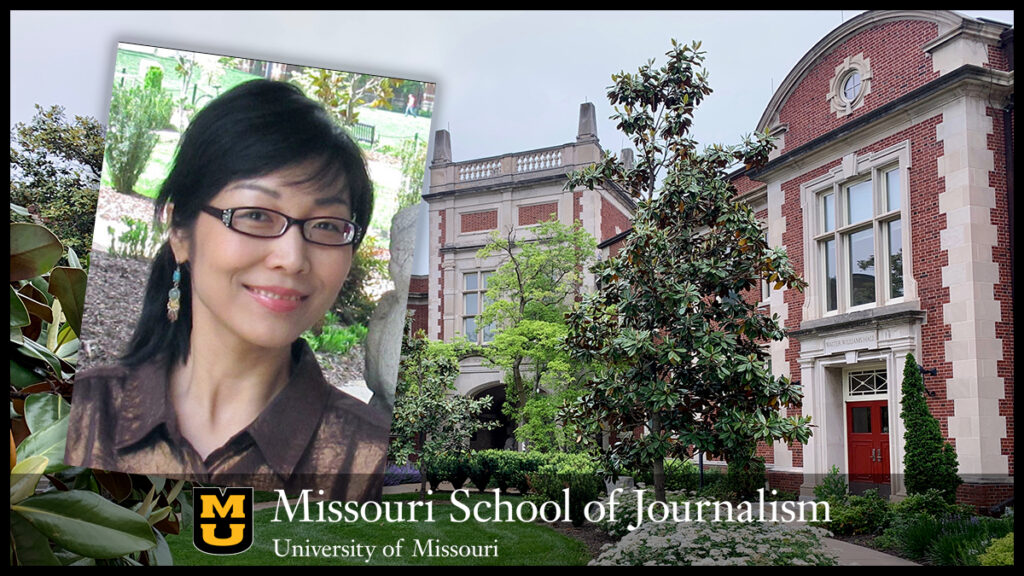 Yong Volz, associate professor and Roger Gafke Distinguished Faculty Fellow at the Missouri School of Journalism, is the 2022 recipient of the School's O.O. McIntyre Professorship in recognition of teaching excellence. Volz is the 35th recipient of the award, which has been given annually since 1987 and comes with a $10,000 stipend for the 2022-23 academic year.
"Yong's track record of exceptional teaching and mentorship across all student levels, which she has maintained in addition to conducting world-class research over nearly two decades at the School of Journalism, makes her the perfect choice for this honor," said David Kurpius, dean of the School. "Her stellar reputation among students and colleagues alike speaks to the impact of her instruction and guidance throughout the School, and the Missouri Method training she provides to students continues to bolster the School's reputation as her students go on to successful careers all over the world."
This recognition is the latest in a long string of awards encompassing every aspect of her work at the School, but the McIntyre Professorship's prestige and celebrated list of honorees, which she recalls being awed by upon arriving at the School 16 years ago, sets this honor apart for her.
"The past winners are the professors who, when I first came to Mizzou, were the superstars," she said. "I'm very humbled to see my name in that list."
The award's recognition of her teaching is also a vindication of sorts for Volz, who was told early in her career that teaching would not be a fruitful path.
"I had been advised, 'as an international scholar, focus on your research, because you will never be recognized for your teaching,'" she said. "But teaching is where I have found my mission. Students come from all walks, life experiences, and academic backgrounds, and I learn as much from them as they learn from me."
Volz teaches undergraduate, graduate and doctoral students and is currently serving on at least 20 dissertation and master's thesis committees. As chair of the School's Journalism Studies faculty group, she also mentors and coordinates faculty to promote a productive environment for students and faculty alike.
The colleagues who nominated Volz for the award emphasized her consistent willingness to devote time and energy to supporting students, faculty and anyone who seeks her counsel.
"She is a person of good character, embodying a set of virtues that too often go without recognition. Yong is thoughtful and considerate of others. She goes out of her way to help colleagues and students. Her generosity with her time and expertise is without parallel."
"Through her leadership at both the school and campus level, Volz has supported both colleagues and students to achieve their best."
"Our doctoral students hold her in the highest possible regard because of her attention to detail and steady mentorship. Students seek her out as a chair and committee member because of this. Yong has also provided steady leadership for Journalism Studies and is known for her responsiveness, meticulousness, and supportiveness."
"Yong embodies what it means to be a colleague — somebody who is truly collegiate in all she does. She is an overlooked superstar of our faculty."
"She is a huge value for the school and is overdue for this recognition."
Volz is currently conducting research centering around the historical experiences of Asian American journalists while teaching students about qualitative research methods that incorporate the hands-on skills that are central to the School's Missouri Method approach, from interviewing to textual analysis.
About the O.O. McIntyre Professorship
The professorship is named for O.O. McIntyre, one of the most widely known New York columnists during the 1920s and 1930s. His column, "New York Day by Day," was syndicated to 508 newspapers in every state, Canada and Mexico. Born in Plattsburg, Missouri, McIntyre was raised in Gallipolis, Ohio, where he got his start in newspapers as a reporter for $5 a week. McIntyre died in 1938, and his widow left part of his estate to the Missouri School of Journalism. In her will, she established the O.O. McIntyre Postgraduate Writing Fellowship to help aspiring writers and the O.O. McIntyre Professorship to recognize outstanding educators.
Past Winners of the O.O. McIntyre Professorship
2021: Holly Higginbotham
2020: Amanda Hinnent
2019: Jeanne Abbott
2018: Margaret Duffy
2017: Elizabeth Brixey
2016: Jennifer Rowe
2015: Earnest Perry
2014: Rita Reed
2013: John Schneller
2012: Mary Kay Blakely
2011: Jackie Bell
2010: Glenn Leshner
2009: Betty Winfield
2008: Brian Brooks
2007: Stacey Woelfel
2006: Steve Weinberg
2005: Lynda Kraxberger
2004: David Rees
2003: Jan Colbert
2002: Byron Scott
2001: Sandy Davidson
2000: Zoe Smith
1999: Mike McKean
1998: Ron Naeger
1997: Lee Wilkins
1996: George Kennedy
1995: Don Ranly
1994: Daryl Moen
1993: Keith Sanders
1992: Won Chang
1991: Rod Gelatt
1990: Ed Lambeth
1989: Dale Spencer
1988: Paul Fisher
1987: Ernest Morgan
Updated: October 7, 2022
Related Stories
Expand All
Collapse All
---