Amanda Hinnant gathers acclaim with two esteemed honors for work at Missouri School of Journalism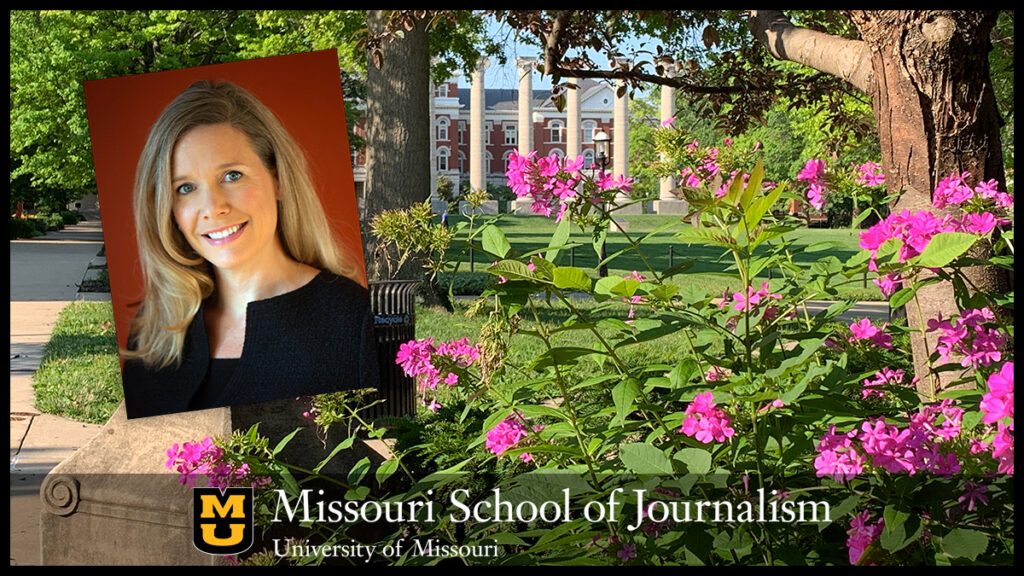 Columbia, Mo. (May 4, 2022) — Amanda Hinnant, an associate professor at the Missouri School of Journalism, has received two prestigious, university-wide awards recognizing different aspects of her work. The Gold Chalk Award, awarded by the Graduate Professional Council, honors faculty who have demonstrated excellence in graduate and professional education, while the Faculty Award from the Mizzou Alumni Association is presented to those who have contributed to the growth and core mission of the university.
"In her 15 years as a faculty member at the School of Journalism, Dr. Hinnant has demonstrated excellence in research, teaching and service in a way that channels the greatness of Mizzou's mission," said David Kurpius, dean of the School of Journalism. "She is a beacon for how members of the Mizzou community can and should constantly work for good. These awards are well-deserved."
Hinnant's award-winning work covers three key university priorities recently articulated as part of the MizzouForward strategic investment initiative:
Cutting-edge research: Hinnant has published more than 30 articles in highly ranked, peer-reviewed journals, many in connection with grant-funded research on health and science communication.
Educating the next-generation workforce: Previously awarded one of the School's highest honors, the O.O. McIntyre Professorship for Teaching Excellence, Hinnant has taught 15 different courses to graduate and undergraduate students. She is known for her collaborative work ethic, offering graduate students co-authorship on significant research papers — experience that gives her students a competitive edge in the job market.
Community impact: In addition to the impact of her research, which focuses on topics with a potential to create positive change in the world, Hinnant bridges her academic work to strong and consistent community involvement. She chairs the City of Columbia Commission on Human Rights and serves as president of the board for the Greenhouse Theatre Project, a local woman-led nonprofit theatre group.
"Dr. Hinnant is not only one of the most trusted and respected colleagues at our School, but she contributes to the field and society in a significant and ever growing way through her teaching, research, mentoring, and public outreach," said Yong Volz, the Roger Gafke Distinguished Faculty Fellow and 2021 Faculty Award recipient. "As a well-respected scholar and a much-sought-after mentor, she is an accomplished educator in the truest sense."
Characteristically, Hinnant sees the awards as a reflection not only of her own hard work, but of the excellence of her students and colleagues.
"The Gold Chalk Award for my involvement in graduate education is deeply rewarding because my favorite part of my job is working with students, learning about the topics they are passionate about, and helping them achieve their research goals," Hinnant said. "I have been so fortunate to collaborate with many smart and conscientious graduate students over the past 16 years. And winning the Faculty Award is a huge honor in large part because so many trailblazers, my colleagues included, have won this prestigious award. I am humbled to be in their company and grateful for this recognition."
Updated: May 9, 2022
Related Stories
Expand All
Collapse All
---