Amanda Hinnant advances field of health communication with instincts of an academic, experience of a journalist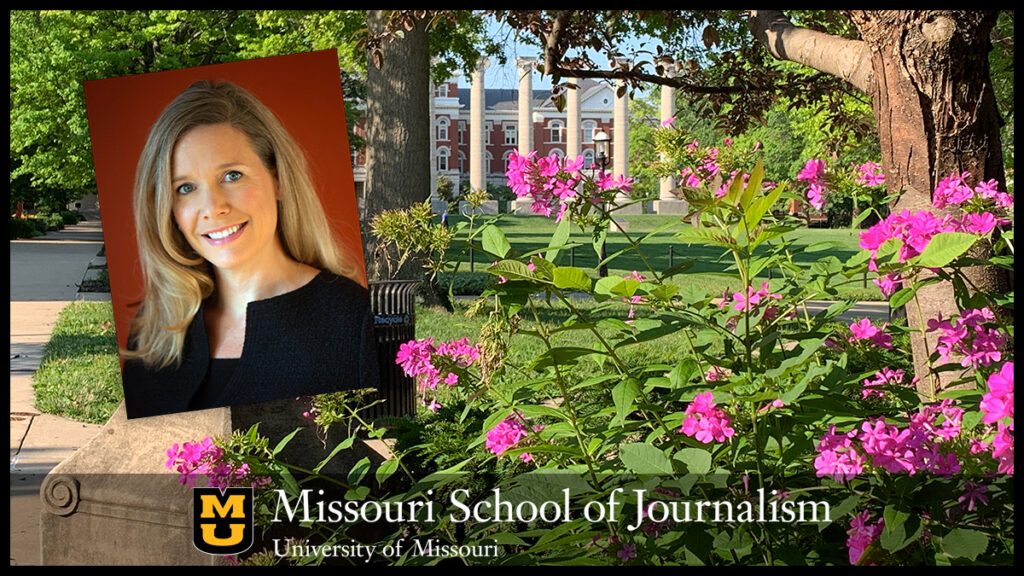 As Mizzou's health research initiatives pick up steam, Hinnant is filling gaps in what we know about effective health messaging
Columbia, Mo. (May 16, 2022) — Amanda Hinnant, an associate professor at the Missouri School of Journalism, has built her career on studying how journalists communicate health information to the public. But as the University of Missouri has boosted its investment in precision health solutions for the world's most challenging diseases through projects like the NextGen Precision Health Institute, Hinnant, too, has found herself increasingly studying how communication works within the health industry itself.
It started a few years ago, when she led a research project addressing a little-noticed player in the gun safety conversation in America: pediatricians. While pediatricians were expected to talk to children and parents about safety issues relating to everything from drugs and sex to seat belts and nutrition, researchers were beginning to notice that discussions about gun safety were simply not happening.
There were a range of reasons, including sensitivities surrounding the country's gun control debate and fears of offending — and losing — patients. Then there was the advice from the American Academy of Pediatrics, which suggested that pediatricians ask parents a battery of questions about their gun ownership and safety precautions.
"Even though it is absolutely valid to tell parents about dangers and safety strategies, starting out with a question — in terms of communication strategy — is the absolute worst thing you could do," Hinnant said. "And it overlooks the fact that even if you don't own firearms, you still need to think about how you might encounter them in someone else's home, someone else's car. Safety information needs to be offered to everyone, regardless of their ownership status."
Realizing that this was an understudied topic, Hinnant and her team interviewed parents and pediatricians to determine what communication style would be beneficial for both parties. Her findings, published last year in Health Communication, supported an approach that put gun safety on every parent's radar without making gun owners feel judged or scrutinized.
While pediatricians were expected to talk to children and parents about safety issues relating to everything from drugs and sex to seat belts and nutrition, researchers were beginning to notice that discussions about gun safety were simply not happening.
For David Kurpius, dean of the School of Journalism, this research highlights the emphasis Hinnant and her colleagues place on impactful work that creates real benefits outside the "lab."
"This kind of study is important at a time when dozens of children tragically die each year because of accidental gunshots," Kurpius said. "Dr. Hinnant focuses her scholarship with potential to bring about significant and positive change in the world, so it's no surprise that she has played a key role in grant-funded research on health and science communication."
The gun safety communication study, a partnership with the Institute of Clinical and Translational Sciences at Washington University, would not be her last foray into the world of communication in the health industry. She is now working on a project with important implications in a world that is still dealing with a pandemic and ongoing vaccine development.
In collaboration with associate professor Sungkyoung Lee and with the support of a $10,000 internal grant from the School's research council, Hinnant is conducting a study testing the use of TikTok-style videos to encourage participation in clinical trials, which are vital for the development of vaccines and other health treatments.
"We don't think people who are trying to recruit for clinical trials have tried TikTok videos as a way of demystifying them and sharing their importance," Hinnant said. "At the same time, we want to see if those messages work better coming from a doctor or from a peer.
Hinnant also emphasized that platforms like TikTok have democratized video production for researchers, who once needed funds for a set, lighting, sound, and other equipment. Now, in Hinnant's words, "it's all built into the app."
For Lee, working with Hinnant has opened a window into the latter's skill at collaboration, one of the cornerstones of both the NextGen initiative and MizzouForward, Mizzou's effort to invest and reinvest in world-class faculty and research.
"She is very good at identifying other peoples' strengths and organizing them into an actionable structure," Lee said. "She has a real interest in partnering with and supporting other faculty, and she understands that grant work requires interdisciplinary collaboration. Grant projects often have broad themes, and no single researcher can tackle everything."
No place like home
In researching health communication, Hinnant draws on a wide variety of experience on both sides of the journalism industry, first as a working journalist, and now as an academic. After earning her master's degree from the School of Journalism in 1999, she worked in New York City for magazines Glamour and Real Simple for several years, an experience that stoked her interest in researching how the public perceived the information they received in articles like hers.
"Going through the process of writing stories that millions of people were reading, I started to think about who was checking me — who was checking that my information was correct and that my sources were reliable?" Hinnant said. "It made me wonder, 'who am I to be providing pretty serious health information to people that they might actually act on?' I realized I wanted to do research on this, to explore how people are reacting to the information they read."
It wasn't the path she originally imagined for herself. A native of Columbia, Missouri, she earned her bachelor's degree in English from Bates College in Maine in preparation for a career on the East Coast. But as fate would have it, that career placed her in New York City on Sept. 11, 2001, within forty blocks of the World Trade Center. The first plane flew directly over her apartment building.
The tragedy marked a turning point that would ultimately see her return to Columbia as a researcher.
"As with many people, it was such a defining moment that made me think, 'OK, what are you doing with your life?" she recalled. "It was definitely a mortality moment where I decided that it was time to make some decisions.'"
Those decisions have since paid off. Hinnant is a decorated researcher, winning two prestigious honors this year alone for her accomplishments in research, teaching, and community involvement. As chair of the City of Columbia Commission on Human Rights, she is also deeply respected by her colleagues for the work she does outside of campus.
"Her level of volunteerism, community engagement, and public service is simply peerless," said Yong Volz, the Roger Gafke Distinguished Faculty Fellow and chair of the Journalism Studies faculty at the School. "Amanda is one of the most trusted and respected colleagues at the J-School."
With 15 years and counting of service to the School, Hinnant's research — much like her career path — continues to evolve with the times, but the award-winning impact of her work remains a highlight of the School's efforts in health and science communication.
Updated: May 16, 2022
Related Stories
Expand All
Collapse All
---