Amanda Hinnant
Associate Professor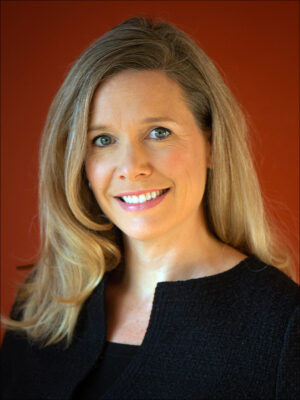 Download High-Resolution Photo
210 Lee Hills Hall Missouri School of Journalism Columbia, MO 65211-1200
Education
B.A. in English, Bates College
M.A.in Journalism, University of Missouri
Ph.D. in Media, Technology, and Society, School of Communication, Northwestern University
Areas of Expertise
Health Journalism
Media Sociology
Science Communication
AMANDA HINNANT is an associate professor of Journalism Studies, the Wallace Turner Memorial Faculty Fellow, an award-winning educator, and a widely published researcher.
Hinnant was recognized in 2022 with the Faculty-Alumni Award and also the Gold Chalk Award for graduate education. She was named the Outstanding Woman in Journalism and Mass Communication Education in 2021 by AEJMC's Commission on the Status of Women. In 2020, she was honored with the School of Journalism's O.O. McIntyre Professorship for Teaching Excellence. She has taught 15 different classes since she started at MU in 2006 and has served on the graduate committees for more than 135 master's and doctoral students.
Hinnant's research focuses on health journalism and science communication, media sociology, and narrative persuasion. Hinnant has led many research teams on health communication research sub-grants for the School of Journalism from the Institute of Clinical and Translational Sciences and the Centers of Excellence in Cancer Communication Research. Current projects include a nationwide survey of health journalists (in collaboration with the Reynolds Journalism Institute and the Association of Health Care Journalists), improving clinical trial recruitment, the use of narrative to enhance engagement with health and science stories, and the role of online comments in journalistic discourse.
Hinnant also serves the university and community. In 2019, she was honored with the Shared Governance Award (individual) from MU Faculty Council. To serve the field, she held office for the Communicating Science, Health, Environment and Risk Division of AEJMC from 2008-2014, serving the final year as head of the division. Locally, she is currently the Chair for the City of Columbia Commission on Human Rights and the Board President for GreenHouse Theatre Project.
Hinnant has won top paper awards from the AEJMC Communicating Science, Health, Environment and Risk Division, the Magazine Division, and the Entertainment Studies Interest Group. Her research has been published by prestigious journals, including PLOS One, Climatic Change, Health Communication, Journalism Studies, Health Education & Behavior, Communication Research, and Science Communication. Hinnant has taught courses on communication research, qualitative methodology, documentary storytelling, journalism and democracy, as well as magazine reporting and writing. Her professional experience includes writing and editing for Real Simple and Glamour magazines.
Selected Publications
Sisi Hu, Ciera Kirkpatrick, Namyeon Lee, Yoorim Hong, Sungkyoung Lee, Amanda Hinnant* (2022) "Improving rural White men's attitudes toward clinical trial messaging and participation: effects of framing, exemplar, and trust." Health Education Research, *equal contributions by authors
Ciera Kirkpatrick, Sisi Hu, Namyeon Lee, Yoorim Hong, Sungkyoung Lee, Amanda Hinnant* (2022) "Overcoming Black Americans' psychological and cognitive barriers to clinical trial participation: Effects of news framing and exemplars." Health Communication, *equal contributions by authors
Ciera Dockter, Sungkyoung Lee, Courtney Boman, Amanda Hinnant, & Glen Cameron (2021) "The Impact of Retransmission and Modality on Communicating Health Research Findings via Social Media" Health Communication, 36:10, 1231-1241.
Lise Saffran, Sisi Hu, Amanda Hinnant, Laura Scherer, and Susan Nagel (2020) "Constructing and Influencing Perceived Authenticity in Science Communication: Experimenting with Narrative," PLOS One, January 15, doi.org/10.1371/journal.pone.0226711
Amanda Hinnant, Courtney Boman, Sisi Hu, Rokeshia Ashley, Sungkyoung Lee, Sherry Dodd, Jane Garbutt, and Glen Cameron (2019) "The Third Rail of Pediatric Communication: Discussing Firearm Risk and Safety in Well-Child Exams," Health Communication, Health Communication, 36:4, 508-520.
Amanda Hinnant, Roma Subramanian, Rokeshia Renné Ashley, Mimi Perreault, Rachel Young, and Ryan J. Thomas (2019). "How Journalists Characterize Health Inequalities and Redefine Solutions for Native American Audiences," Health Communication, 34:4, 383-391.
Amanda Hinnant, Roma Subramanian, and Rachel Young (2016). "User comments on climate stories: impacts of anecdotal vs. scientific evidence," Climatic Change, 138, 411-424.
Selected Book Chapters
Joy Jenkins and Amanda Hinnant (2019). "Idealized Authenticity: Analyzing Jean Baudrillard's Theory of Simulation and its Applicability to City Magazines" Lifestyle Journalism: New Media, Experience and Design. New York: Routledge.
Amanda Hinnant and María Len-Ríos (2019) "Rx for Communicating about Health Inequalities." María Len-Ríos and Earnest Perry (Eds), Cross-Cultural Journalism, New York: Routledge, 2nd edition.
Amanda Hinnant (2016). "How Ladies' Home Journal did second-wave health, 1968-1975." Rachel Ritchie, Sue Hawkins, and Nicola Phillips (Eds.), Women in Magazines (The Routledge Research in Gender and History Series). New York: Routledge.
Selected Awards
2022 Faculty-Alumni Award, Mizzou Alumni Association
2022 Gold Chalk Award for graduate education from MU's Graduate Professional Council
2021 Outstanding Woman in Journalism and Mass Communication Education from AEJMC's Commission on the Status of Women
2020-21 O.O. McIntyre Professorship for Teaching Excellence from the School of Journalism
2020-21 Fellow, University of Missouri Mid-Career Research Development Program
2019 Shared Governance Award for an Individual from University of Missouri Faculty Council
2016 Invited scholar to Northwestern University's Media, Technology & Society Speaker Series
2013 Second place, Award for Outstanding Published Research in Science, Health, Environment and Risk Communication from AEJMC (ComSHER Division)
2012 Top Faculty Paper, AEJMC (Magazine Division)
2011 Second place, Award for Outstanding Published Research in Science, Health, Environment and Risk Communication from AEJMC (ComSHER Division)
2010 Top Paper, AEJMC, (Entertainment Studies Interest Group)
2010 Top Three Paper, AEJMC (ComSHER Division)
2008 Top Paper, AEJMC (Science Communication Interest Group)
Updated: January 10, 2023