Betty Houchin Winfield Wins $10,000 O.O. McIntyre Professorship for Teaching Excellence
By Brian Trojahn
Strategic Communication Student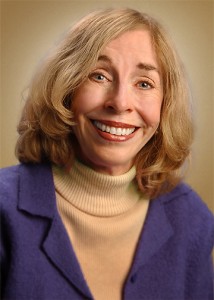 Columbia, Mo. (May 29, 2009) — Professor Betty Houchin Winfield is the winner of the 2009 O.O. McIntyre Professorship for excellence in teaching, an annual award presented by the Missouri School of Journalism. Winfield, who also is a University of Missouri Curator's Professor, will receive a $10,000 salary supplement for the upcoming academic year.
Winfield is a noted author in the subjects of mass media history and political communication, including Journalism 1908: Birth of a Profession (University of Missouri Press, 2008) and FDR and the News Media (University of Illinois Press, 1990, and Columbia University Press, 1994). She also has authored a monograph, The Continuous Past: Historical References in Nineteenth Century Journalism, as well as several book chapters and articles.
Among Winfield's many national and local awards are the Covert Award in Mass Communication History, the American Journalism Historians Association's inaugural teaching excellence award and the University of Missouri Faculty-Alumni Award. She has also been recognized as the first journalism professor to receive a system-wide University of Missouri Curators' Professorship as well as the University of Missouri Thomas Jefferson Award.
Winfield came to the Missouri School of Journalism from Washington State University in 1990. She also holds appointments in the MU Department of Political Science and the Harry S. Truman School of Public Affairs. Winfield earned her doctorate from the University of Washington and has held post-doctoral fellowships at both Harvard University and Columbia University.
Winners of the O.O. McIntyre Professorship are:
About the O.O. McIntyre Professorship
The professorship is named for O.O. McIntyre, one of the most widely known New York columnists during the 1920s and 1930s. His column, "New York Day by Day," was syndicated to 508 newspapers in every state, Canada and Mexico. Born in Plattsburg, Mo., McIntyre was raised in Gallipolis, Ohio, where he got his start in newspapers as a reporter for $5 a week. McIntyre died in 1938, and his widow left part of his estate to the Missouri School of Journalism. In her will, she established the O.O. McIntyre Postgraduate Writing Fellowship to help aspiring writers and the O.O. McIntyre Professorship to recognize outstanding educators.
Updated: August 28, 2020
Related Stories
Expand All
Collapse All
---