Curators' Professor Emerita Betty Winfield Receives Outstanding Alumni Award in Education from the University of Arkansas
Award-Winning Teacher, Author, Climber Recalls Beginnings at University of Arkansas
Used with permission from the University of Arkansas College of Education and Health Professions
Fayetteville, Ark. (May 15, 2013) — Betty Houchin Winfield says her undergraduate days at the University of Arkansas were a time to find herself.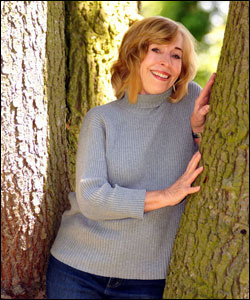 "I think of that time as a personal renaissance for me in lots of ways," said Winfield, who is the recipient of the Outstanding Alumni Award in Education from the College of Education and Health Professions. "I learned a lot about myself, my identity and beliefs. I learned to speak out."
It was a turbulent time with the fight for civil rights, including the crisis at Central High School in Little Rock, she recalled.
Winfield grew up in Little Rock and graduated with a Bachelor of Science in Education from the University of Arkansas in 1959. She lives in Seattle now but still has family in Fort Smith and Charleston. She taught 21 years at the University of Missouri's School of Journalism in Columbia and retired before an appointment as Fulbright Distinguished Chair of American Studies at the University of Warsaw in Poland last year.
When she heard that she had won the alumni award, Winfield said, she was surprised, pleased and excited about returning to campus.
"The University of Arkansas was my first adult renaissance," she said. "It represented a major intellectual and artistic expansion for me. There are so many memories. The thing about an award like this is you go back and think about what was happening then."
She recalled few strong female role models except in this college and that people well-respected in their fields – such as architects Frank Lloyd Wright and Edward Durrell Stone – visited and spoke on campus.
Back then, the university charged students tuition by the semester, rather than by the credit hour, and Winfield sometimes took 20 or 21 hours per semester.
"I was an OK student, but I was curious," she said. "If a class sounded interesting and fun, I took it. I graduated with more than 150 hours in four years."
She joked that she majored in "activities" and said she especially enjoyed dance, taking classes from Eleanor King, a professional dancer and choreographer who taught at the university from 1952 to 1971.
She also worked as a reporter and an editor on The Arkansas Traveler, the university's student newspaper. When she graduated, her choice was a reporting job at the then-Arkansas Gazette or a teaching position. However, the newspaper said that her job would be in the society section because she was a woman. She turned that down and taught at Woodruff Elementary School in Little Rock before she and her husband at the time moved to Michigan, where both attended graduate school. Winfield had a daughter in 1964 and earned a master's degree in American culture from the University of Michigan in 1965.
Her husband, a medical doctor, was drafted and the couple and their baby moved to Japan, where their second daughter was born. Winfield taught soldiers who had not finished high school and, in return, was able to take the Army's intensive Japanese classes. Years later, she took her daughters back to Japan as a college graduation gift and they traveled all over the country. Winfield has also lived in London, Beijing and Warsaw and has traveled in 35 countries.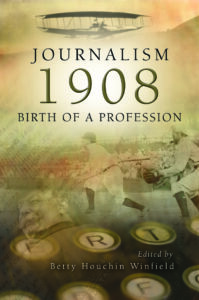 She earned a doctorate in political communication from the University of Washington in 1978 and taught communication and American studies at Washington State University before she joined the University of Missouri faculty. In 2003, she was awarded Missouri's most prestigious designation, a Curators' Professorship, for her outstanding scholarly work in political communication. She was the first professor in the School of Journalism to receive this appointment. In 2011, she received the University of Missouri Alumni Association Distinguished Faculty Award.
Among Winfield's four books are Journalism, 1908: Birth of a Profession (University of Missouri Press, 2008) and the award-winning FDR and the News Media (University of Illinois Press, 1990, and Columbia University Press, 1994). Her other publications include two monographs, 15 book chapters, and more than 100 encyclopedia and journal articles. Winfield has given numerous scholarly lectures and competitive papers on mass media history and White House communication. Among them are analyses of the free expression conflicts with the commander-in-chief role of the president, the models of attorneys general during wartime, first lady relationships with the public and the media, and how journalists use history in their stories.
She received the American Journalism Historians Association Sidney Kobre Award for Lifetime Achievement in Journalism History in 2009.
Some of her students who graduated from Missouri work in the field of journalism while her many doctoral students hold teaching posts at universities across the country. She loved being an academic because of the opportunity to continually learn.
"That's another thing that stands out to me, all the students I've taught," Winfield said. "I think I have taught more than 8,000 students. It's great to get to know the students and learn from them. They are tremendously creative. It's super to see them grow and help them publish. I helped lots of students publish in scholarly journals and research papers – including undergraduates. I hear from them that the experience made a difference for them. They used those publications to get into law school, grad school and writing programs."
She may be retired from academia, but Winfield continues to speak and present papers. She also continues to be physically active. In past years, she's climbed 14 U.S. peaks including Mount Rainier, and Japan's Mount Fuji. She's a cyclist and a runner, too, having completed the Seattle to Portland bike ride and the New York Marathon.
"We go hiking every Thursday," Winfield said of herself and her husband, Barry Hyman, a retired engineering professor, "and in June I'll be hiking in Mexico."
The college will honor Winfield at its commencement ceremony May 11 along with Gretchen Oliver, recipient of the Outstanding Alumni Award in Health and Human Services, and Jessica Sliger, recipient of the Outstanding Young Alumni Award.
Updated: July 16, 2020
Related Stories
Expand All
Collapse All
---