Professor Betty Winfield Wins Inaugural Award from American Journalism Historians Association
Columbia, Mo. (Sept. 23, 2008) — University of Missouri Curators' Professor Betty Houchin Winfield of the Missouri School of Journalism was recently named the first recipient of the National Award for Excellence in Teaching awarded by the American Journalism Historians Association (AJHA).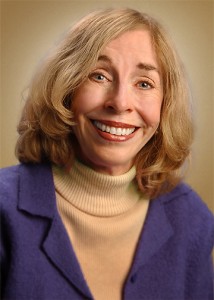 The inaugural award, which honors excellence in the teaching of journalism and mass communication history, was created earlier this year by the AJHA. Founded in 1981, AJHA exists to foster research and teaching of journalism history, to provide a forum for those in the field and to be a resource. The association defines journalism in its broadest sense to encompass a wide range of mass communication studies.
Winfield will receive the award at the organization's 28th annual convention, to be held in Seattle Oct. 1-4. Barbara Friedman, MA '99, PhD '04, chair of the AJHA Education Committee and an assistant professor at the University of North Carolina at Chapel Hill, will present Winfield with the award. As a former graduate student of Winfield's, Friedman said she is honored to be the presenter.
"Betty has been my teacher, mentor and friend, so of course I'm thrilled that we'll be giving this award to her," Friedman said. "People may think the fix was in, but Betty didn't need my help to win this. She received the highest rating in every category of the award. Her positive influence as a teacher and history scholar is reflected in the high number of Mizzou grads who participate in AJHA."
Winfield has been a member of the Missouri School of Journalism faculty since 1990. A specialist in political communication, she is also an adjunct professor in the university's Department of Political Science and an affiliated professor in the Harry S. Truman School of Public Affairs. Before coming to Missouri, she was a professor of Communication and American Studies at Washington State University. She has held post-doctoral fellowships at the Shorenstein Center for Press, Politics and Public Policy at Harvard University (1991) and the Gannett Center for Media and Politics at Columbia University (1988-1989).
Winfield is the author, co-author or editor of four books, including the recent title Journalism 1908 – Birth of a Profession (University of Missouri Press, 2008). The book, accompanied by a scholarly symposium held Sept. 10, examined the significance of the year 1908, which marked not only the founding of the world's first school of journalism at the University of Missouri, but also a turning point of American journalism. Her other books include FDR & the News Media (Columbia University Press, 1994); The Edward R. Murrow Heritage: Challenge for the Future (Iowa State University Press, 1986); and Bleep! Censoring Rock and Rap Music (Greenwood Press, 1999). Winfield also has published more than 70 encyclopedia and journal articles, numerous scholarly papers on mass media history and White House communication and multiple book chapters. In 1998, the University of Missouri awarded Winfield its prestigious Thomas Jefferson Award for an Academic Career Embodying the Jeffersonian Principles and Ideals in Scholarship and Teaching, and in 2002 she received the MU Faculty Alumni Award. In 2003, she was honored with a University of Missouri Curators' Professorship, which she will hold for the rest of her career at MU.
Additionally, Winfield has mentored hundreds of students throughout her career and served on numerous master's and doctoral committees.
"We understand just how important top-notch teachers, colleagues and mentors are to one's academic career," Friedman said. "It is the dedication of people like Betty that helps to advance the study of journalism history and foster an enthusiastic cadre of teachers and young scholars."
Updated: April 29, 2020
Related Stories
Expand All
Collapse All
---