Missouri School of Journalism's 'Missouri Method' going strong during 2020 general election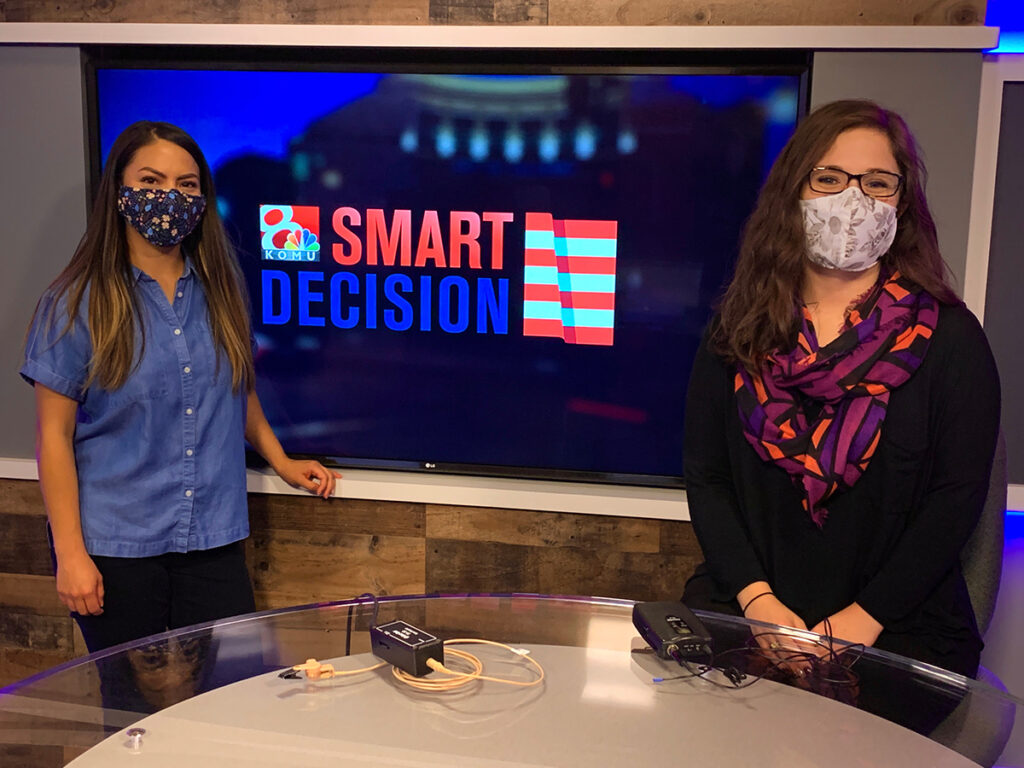 By Jennifer Nelson
Columbia, Mo. (Nov. 23, 2020) — The hands-on Missouri Method was in full swing during the 2020 general election as students across Missouri School of Journalism's professional newsrooms worked many hours to bring election results to mid-Missouri.
Some traveled to various parts of the state including Springfield, Missouri, to report on Governor Mike Parson's watch party. Others produced election streaming program on the School's NBC affiliate KOMU-TV 8's Roku app to help host conversations with local experts in a newly renovated studio at the Donald W. Reynolds Journalism Institute. Some helped outside news organizations report out their election results in new and interactive ways. For most of them, this was the first major election they've ever covered.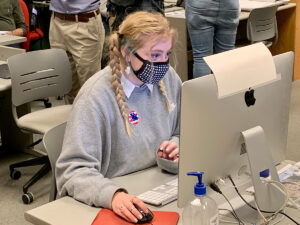 "The night was stressful but also very exciting to be a part of," said Sara Marquardt, senior from St. Joseph, Missouri, who is a print designer for the School's community newspaper the Columbia Missourian. "It was hard working on such a tight deadline when stories and photos weren't even coming in until past midnight. It was also the most people that have been in the newsroom at once all semester, so it was fun to see everyone in person again, as well as meet editors and staff that I hadn't worked with before."
"We have all experienced a year unlike any other, and our School has had to innovate to keep students, faculty and staff safe while continuing the essential work of training students and serving communities," said Dean David Kurpius. "Our faculty, staff and particularly students produced significant work across our newsrooms during the election. The result was excellent, broad, deep coverage that served the citizens of Missouri well."
Junior Wicker Perlis of New Orleans traveled to Springfield to cover Governor Parson's watch party as a state government reporter for the Columbia Missourian.
Perlis said the event gave him the opportunity to continue honing his multitasking skills as he watched results come in, followed what people were saying on Twitter and talked to campaign staff and special guests.
"Multitasking was a necessary skill," he said. "I knew how to do it before, but I hadn't done that level before."
Perlis said he felt prepared to cover the election after taking his news writing classes, which taught him the importance of making sure every fact is accurate. He said his editor, Associate Professor Mark Horvit, had also instilled in him the importance of having all the necessary background information needed to go into an event like this.
Jack Kosowski, senior, of Libertyville, Illinois, attended the Nicole Galloway watch party in Columbia as part of his election assignments as a reporter for the School's NPR-member station, KBIA-FM. During the event Kosowski and his colleague, Trevor Hook, did interviews for KBIA, as well as stations in Kansas City and St. Louis to provide updates.
Kosowski, who provided updates for KCUR in Kansas City, Missouri, said it was nerve wracking to provide live updates during the event.
"I remember my hands shaking," he said. "I could barely handle the phone. It was nerve racking to be on live radio, but then I got reassurance afterwards. They were like, 'Oh the newscaster said that you sounded great.'"
Kosowski said once the reporters weren't allowed in the KBIA newsroom when the COVID-19 shutdowns happened in March, anchoring changed a bit and live broadcasting was delayed. He said rather than doing live broadcasts they would record something on their own and then have time to edit it before it went on the air.
"So this was the first time that I was live on air, having to do everything in one go," said Kosowski. "I didn't have a script or anything because I felt like if I had a script, I would stay too close to the script and be almost robotic. So, I just said, 'OK, this is what I know. This is what I'm going to say.' I think that was probably the best decision."
Sophomore Jeb Goldman of Gilroy, California, worked as a graphics producer at KOMU-TV during the election.
The election taught Goldman how to be adaptable and "roll with the punches," he said. After spending multiple hours getting the 10 p.m. newscast ready, they had to kill a significant portion of the show to air other election coverage that came up. But he was thankful to be working alongside faculty, as well as older students who he could learn from.
"So [student] Jack Lee, who's one of the most amazing people I get to work with week in and week out, was the producer for the 10 p.m. show," said Goldman. "He did a great job of being able to adapt the show to add all this content. But it was so stressful because you spend so much time planning out the show. It's amazing to see how the pros are able to really work their magic on the night where it matters most."
Goldman said going into the big news event he had some anxieties and lost sleep. But he was thankful for his J1400 instructor, Joanie Straub, who is also the School's communications director, who walked through the Tuesday morning show with him and what he wanted election day to look like, which helped him calm down, he said.
"I was kind of questioning my abilities as a producer," he said. "And she was like, 'No, you're ready. You can do this.'"
Goldman began working as a production assistant at KOMU-TV as a freshman and then moved up to working as a producer as a sophomore, which is typically earlier than students begin working at KOMU as students.
"I got to the station early," he said. "So I'm actually slightly ahead of the curve. Most producers are seniors. It was an amazing opportunity. It makes me look forward to what I'm going to be able to do in two years as part of the J-School, when midterms come around and I'll be much older and much more experienced."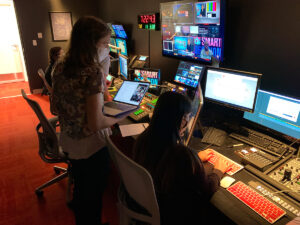 Graduate student Victoria Alaniz, of Montclair, California, who also works full time at KOMU-TV, worked with graduate student Hope Beitchman, of Boerne, Texas, who worked on producing KOMU's election streaming program, which was hosted by KOMU's Jim Riek and included conversations with local political experts. The program was streamed on KOMU's ROKU platform and was shot from the Reynolds Journalism Institute's newly-renovated studio on the Mizzou campus. The program provided the station an opportunity to step into new territory away from its traditional newscasts.
Alaniz said she walked into the event not being well-versed in politics and is more familiar with entertainment news, so it gave her confidence in her abilities.
"I'm not well-versed in politics at all. I can't pretend to be, but it gave me the confidence to discovering new areas that maybe I would have shied away from because I don't know a ton about it," Alaniz said. "I think when Associate Professor and KOMU Supervising Producer Jeimmie Nevalga entrusted us with this political chat style show, it was a way to get my feet wet into politics without acting as if I knew exactly what I was talking about – without getting overwhelmed by how much I didn't know about politics – and making it closer for Missourians and me."
Not all student work was for the School's professional newsrooms. Jacob LaGesse, sophomore from Clayton, Missouri, who is majoring in journalism and computer science, worked with RJI Senior Editor James Gordon on a project to help the Voice of OC, a nonprofit newsroom in Orange County, California, embed and display live election results on their website.
The data visualization project helped him improve his technical skills, he said. For this particular project he and Gordon had to programmatically generate multiple graphics for close to 180 different races, he said.
"It wouldn't have been easy to manually create graphics and input the data for any of these," he said. "So I got a ton of experience working with a JavaScript charting library called D3 that I had always wanted to get comfortable with. It was kind of hard to get into, but this project really made me hone my skills and get a lot better at that."
LaGesse worked with Gordon on a similar project the year before and it was a good opportunity to start learning from Gordon on projects like these, he said. He worked on the project as a Discovery Fellow, a group of high-performing freshmen and sophomores who have earned a 33 or higher on their ACT, were selected to conduct research in their interest area and given a $2,000 scholarship.
"I'm proud of the work of our newsrooms this election season," said Dean Kurpius. "In my tour through our journalism operations and studios, I saw innovation that crossed newsrooms, implemented new technology, built new coverage routines and set a new standard for what we can accomplish collectively."
Updated: November 30, 2020
Related Stories
Expand All
Collapse All
---