Missouri School of Journalism and MU News Bureau come together to give students real-world news conference experience
COLUMBIA, Mo. (Oct. 3, 2022) — The Missouri School of Journalism is partnering with the University of Missouri's media relations office, the MU News Bureau, to hold professional news conferences for journalism students. Jointly coordinated by Professor Amy Simons and the News Bureau and generally occurring once a month when school is in session, the news conferences offer important formative experiences for students in the early stages of their journalism degree.
"This is challenging students to do news gathering in a shared space where you don't have one-on-one access to the source," Simons said. "They can also hear what others are asking and think about how that information might fit into their stories, too."
Headlined by News Bureau Director Christian Basi and several of his staff, the conferences, which began last spring, play a dual role: they provide access to the university's top spokespeople — allowing students to gather information for the stories they are working on as part of their coursework — and they serve a valuable educational purpose in line with the School's Missouri Method approach of hands-on learning, giving students the experience of a real news conference with all the expectations of decorum and preparedness that entails.
The conferences primarily cater to students in J1400, an introduction to journalism and strategic communication practice in which students must write a news story using multiple sources, though students in other courses can also participate. For most participating students, this is their first in-person exposure to a real news conference.
"Understanding how to work with media relations offices is a key skill for journalism students — how to build and cultivate those relationships and go about getting information in the right way," Basi said. "Part of the News Bureau's mission is educational. We are here to help the students on campus build up their experience so that when they go out into the real world, they have an opportunity to say, 'I've been there. I've worked with the MU News Bureau, I understand what this is like, and I can use that knowledge to guide my reporting as I move forward.'"
Of course, the News Bureau's more public-facing mission of coordinating media relations for the university also relates directly to the School, whose students produce journalism at many of Columbia's major news outlets, including the Columbia Missourian, KOMU-TV, KBIA-FM, Vox Magazine and Missouri Business Alert. It's in this respect that Basi sees an additional benefit of the conferences beyond educational opportunities and the chance to build early relationships between the university's media relations office and future community reporters.
"The university is in a spotlight, and that's not just a spotlight from journalism students working as reporters at the various media outlets, but from students who aren't yet working at those outlets who are required to do reporting assignments for their classes," Basi said. "We were hearing from a lot of offices that the number of requests coming in was overwhelming, and we were looking for a solution. How do we make sure students can get what they need while not overwhelming our operations?"
Sept. 16's news conference, the first of the fall semester, demonstrated the answer. Basi appeared alongside Uriah Orland, associate director of the News Bureau; Stephanie Fleming, assistant director; Sara Diedrich, senior editor and public safety information specialist; and Katryna Sardis of the Relationship and Sexual Violence Prevention Center, a special guest invited to help answer relevant questions from students.
Right off the bat, the educational component of the experience came to the forefront: a question about the UM System's new paid-time-off policy needed rewording due to confusion about the substance of the policy, while another about the university's process for alerting the campus community to an active shooter threat required clarification about the differing jurisdictions of campus and city police.
"The News Bureau doesn't pull any punches with our students," Simons said. "They respond in exactly the same way they would to any other reporter, and they will push back when there is reason to push back. You can sometimes see a little shell shock in the students, because they might not have been prepared for that. It's a great learning opportunity."
At the same time, emphasis is placed on ensuring that students are left with constructive criticism and helpful tips rather than walking away demoralized.
"We will treat the students the same as all reporters, but we're also going to take a little extra time," Fleming said. "In the same way that their professors in these lower-level classes spend more time on expectations and how to be an effective reporter, we may offer feedback about the most productive ways to work with a PR office: 'Here are our expectations when you contact us, and here's what you can expect from us.' They're not going to get that from any other PR agency."
And it isn't just this feedback that students retain; Ashlee Klotzbuecher, a sophomore at the School of Journalism and an attendee at the Sept. 16 conference, took Simons' recommendation of listening to other students and found that there was more to the experience than getting her own questions answered.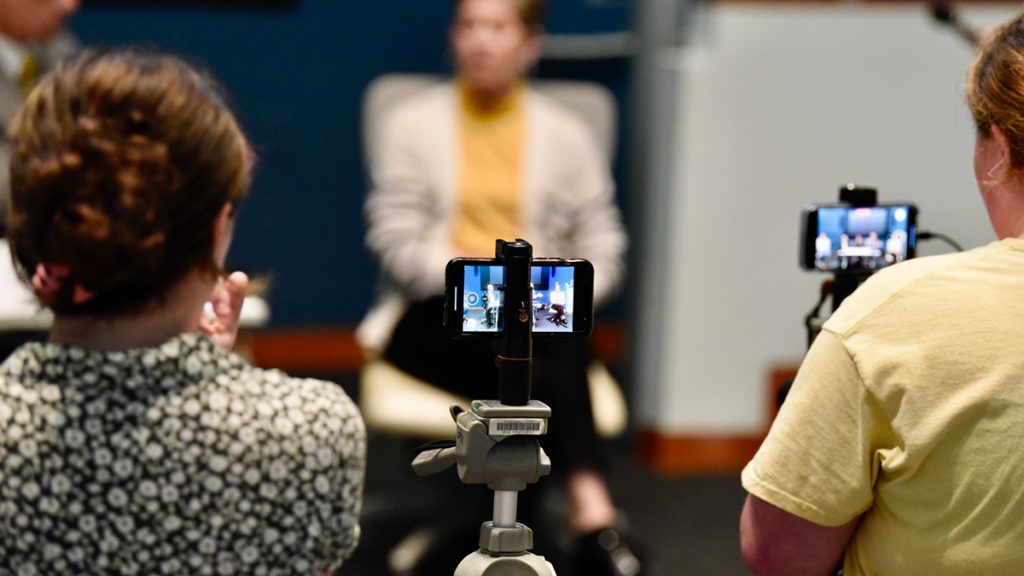 "I learned a lot and got to hear a lot of different perspectives on topics I didn't know much about," Klotzbuecher said.
While she hopes to put her education to use in a career in reporting or photography, her classmate in J1400 — fellow sophomore William Shedd — found value in the conference through the lens of a strategic communication interest.
"This experience could come in handy because a company might hold a news conference to talk about a marketing campaign," Shedd said. "I had never been to a news conference before, so this was interesting. I had only seen them on TV."
Going forward, Simons and Basi have entertained the idea of expanding the scope of the conferences by including representatives from other institutions that students commonly contact for assignments. But for now, in only its second full semester as an experience available to journalism students, the news conferences will continue to focus on what drove their creation in the first place: real-world training for students that allows Mizzou's media relations office to build a fruitful and educational rapport with the journalists of tomorrow without detracting from its mission of serving a campus with more than 30,000 undergraduates across the university's schools and colleges.
"This partnership with the News Bureau gets to the essence of the collaborative approach we take to everything at the School of Journalism, from the work of our faculty researchers to the staff and students at the One Newsroom," said David Kurpius, dean of the School. "I'm excited to continue working with Mizzou's media relations office to give students another opportunity for the kinds of firsthand experiences that will give them a head start in their future careers."
Three more conferences are scheduled for the fall semester, occurring on Oct. 21, Nov. 4 and Dec. 9. For more information, please contact Amy Simons at simonsa@missouri.edu.
Updated: October 4, 2022
Related Stories
Expand All
Collapse All
---