School Hosts Videoconference with Global Scholars about International Election News Coverage
Columbia, Mo. (Dec. 27, 2007) — Journalism researchers from around the world recently discussed international election news coverage via a videoconference hosted by the Missouri School of Journalism.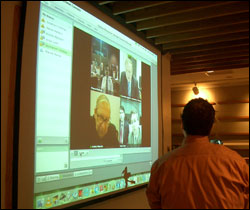 Researchers from Moscow State University in Russia, the University of Warsaw in Poland and the Catholic University of Argentina discussed the recent presidential election coverage in Argentina and Poland, in addition to the parliamentary election coverage in Russia. The conversation, made easier by a common fluency in English, allowed the participants to see each other on an overhead display divided into four sections.
"Each election is unique and has unique coverage patterns," said Missouri School of Journalism Professor Wayne Wanta, who also serves as the executive director of the Center for the Digital Globe, a research body that promotes interdisciplinary work through technology. "For researchers around the world to share their thoughts and findings is an exciting thing to do."
In Argentina, the newly elected president, Cristina Fernandez de Kirchner, is the wife of former president Nestor Kirchner, a succession that has drawn comparisons to Bill and Hillary Clinton. In Poland, voters recently ousted Prime Minister Jaroslaw Kaczynski, who had governed with Poland's president and his identical twin, Lech Kaczynski. The opposition party campaigned on the promise of better relations with Russia and the European Union.
Two years ago, Wanta organized a videoconference to discuss news coverage of terrorism after the March 2004 terrorist bombings of commuter trains in Madrid, Spain, in which 191 people died. Researchers from Spain and the University of Texas-Austin participated.
Wanta said upcoming videoconferences likely will coincide with the Russian presidential election in March 2008 and the U.S. presidential election in November 2008.
CDiG is an interdisciplinary center with a mission to prepare students and citizens for a world in which global interaction is changing the way people live, work and learn. A link to the Dec. 4 videoconference is available on the CDiG website.
Updated: April 21, 2020
Related Stories
Expand All
Collapse All
---