Society of American Business Editors and Writers Recognizes Alumnus Sean Sposito and Senior Marie French
By Caroline Murray
Columbia, Mo. (March 13, 2014) — Sean Sposito, BJ '09, and Marie French, a Missouri School of Journalism senior, have been recognized by the Society of American Business Editors and Writers (SABEW) for their contributions to business journalism.
Sposito was named one of five finalists in the inaugural Larry Birger Young Business Journalist Award, which honors business journalists under age 30. French was named one of three finalists in the student publication category of the 19th annual Best in Business competition.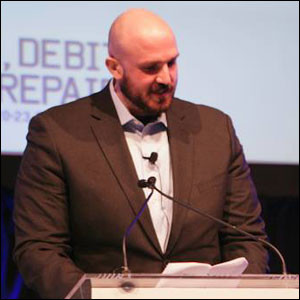 Sposito, a reporter and data specialist for the Atlanta Journal-Constitution, joined that paper after more than three years as a banking technology reporter for American Banker, based in New York.
"I owe my entire (short) career to NICAR and SABEW – both of which I was introduced to while I was in college," Sposito said. "My classmates, my mentors and my professors, many of whom I still ask for advice, have been invaluable to me."
French's story, "Families, child care providers find subsidy program tough to access," detailed the struggles that needy families have in navigating state rules in being able to change child care providers. It was published Dec. 10 in the Columbia Missourian.
French worked on the project as her semester-long capstone course in the fall with the help of Liz Brixey, associate professor and a Missourian editor; Judd Slivka, assistant professor in convergence journalism; and fellow student Natalie Cheng. The topic is something French has been interested in since she began at University of Missouri.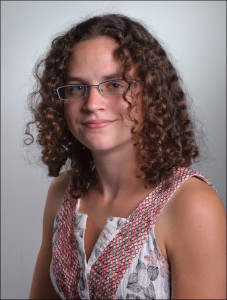 "The first time I ever wrote a story, it was about early childhood education," French said of work she did in the convergence reporting course. "It is a topic I've been able to engage with a lot for various classes."
The judges, more than 200 working journalists and academics, noted that French's piece "took the reporting past pure numbers and gave the problems a human face."
"It was great to work on this project with Natalie Cheng and Liz Brixey," French said. "I really appreciate recognition it has gotten because I think it's a really important topic."
Marty Steffens, professor and SABEW chair in business and financial journalism, taught both Sposito and French in business journalism, and both attended her class trip to Wall Street.
"Our alums learn from each other," Steffens said. "For example, Marie was part of the 2013 class that toured business media outlets. In fact, Sean was our host at American Banker, where he was working at the time. This encourages students to pursue a career in business journalism, because they know that other Mizzou students have blazed the trail."
Sposito said Missouri School of Journalism professors like Steffens continue to teach him, even as a professional.
"Don't underestimate your professors," Sposito said. "They have the potential to become lifelong allies."
Updated: July 22, 2020
Related Stories
Expand All
Collapse All
---