Byron Calame, BJ '61, Named Visiting Business Journalism Professor for the Fall Semester
Columbia, Mo. (Sept. 17, 2012) — One of journalism's most respected editors will serve as a visiting business journalism professor at the Missouri School of Journalism this semester.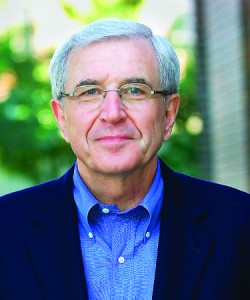 Byron E. "Barney" Calame, BJ '61, dedicated himself to ethical journalism and to the education of aspiring journalists during his 39-year career at The Wall Street Journal and two-year term as public editor and ombudsman for The New York Times.
In 2011 Calame received an honorary doctorate from the University of Missouri, awarded to alumni who have achieved distinction.
"Barney played a key role in getting The Journal published the day after 9/11 attack forced the staff out of its Manhattan headquarters," said Randall Smith, the Donald W. Reynolds Endowed Chair in Business Journalism. "He oversaw all sensitive major stories, and is viewed as one of journalism's top ethicists."
Calame will visit campus and speak to students several times during the semester. He will help develop a new online publication for business news called Missouri Business Alert and provide input about the School's business journalism curriculum.
Calame's visits are being sponsored by funding from the Donald W. Reynolds Foundation, which established Smith's chair in 2008.
The Reynolds chair is the second in business journalism at the School, joining the Society of American Business Editors and Writers Endowed Missouri Chair in Business and Financial Journalism now held by Marty Steffens. For the past two years two Missouri juniors have received the $10,000 Donald W. Reynolds Business Journalism Scholarship that encourages promising business journalists to pursue the field. Ten paid summer internships at both traditional and new media companies were also offered.
Updated: June 17, 2020
Related Stories
Expand All
Collapse All
---