Master's Student Wins Society of American Business Editors and Writers Contest
Columbia, Mo. (March 26, 2007) — Isabel Ordóñez, a second-year master's student at the Missouri School of Journalism, has won first place in the student category of the Society of American Business Editors and Writers' (SABEW) annual Best in Business contest.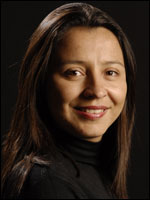 SABEW founded the Best in Business contest for professionals in 1995 to help set standards and recognize role models for outstanding business journalism. The newer student competition, however, is in its third year.
"SABEW is proud to have a Missouri student as the top winner in this contest," said Marty Steffens, professor and the SABEW chair in business and financial journalism at the School.
Ordóñez won $250 for her story on how poor Latin American men are being recruited to fill dangerous jobs as security guards for contractors in Iraq and Afghanistan. She wrote the story as a correspondent for Reuters while interning in Lima, Peru, and Mexico City, Mexico, during the summer of 2006. Ordóñez is a native of Quito, Ecuador, and received her undergraduate degree from the Universidad Central del Ecuador.
"It is a tremendous honor being recognized by my fellow journalists," Ordóñez said. "It is always my goal to share the stories of Latin America with the world."
Steffens said she is proud of Ordóñez, who was a student in her business reporting class in 2006, because of her quality of work and initiative.
"Isabel's editors at Reuters said she did a fabulous job during her Lima internship," Steffens said. "She came up with most of her own ideas for stories."
The SABEW award is one of many accolades for Ordóñez, who has been named a 2007 Poynter Institute Summer Fellow in St. Petersburg, Fla., following her graduation in May. She also has won an Inter American Press Association Scholarship, a Holbein Scholarship from the International Newspaper Marketing Association, a fellowship from the Gabriel Garcia Marquez Foundation for New Journalism and a second-place Symbols of Liberty Ecuadorian National Prize for Journalists, the country's most prestigious journalism competition. Also a competitive athlete in South America, Ordóñez is Ecuador's national record-holder in women's javelin.
Ordóñez is currently working on her master's project at Morris Communications in Augusta, Ga. She is conducting research at Morris newspapers in Georgia, South Carolina and Michigan for the Newspaper Next Project, an American Press Institute initiative developed in conjunction with several newspaper companies. In addition to completing the Reuters internship last summer, Ordóñez has served as an international fellow in the business section at the San Antonio (Texas) Express-News. She plans to intern for the Wall Street Journal in Los Angeles, Calif., in 2008.
While working on her master's degree at the School, Ordóñez served as editor of Adelante, a bilingual magazine for mid-Missouri's Latino community. She said the hands-on experience and faculty guidance at Adelante and in her coursework has prepared her for the challenges of being a working journalist.
"After having taken reporting classes with Mizzou professors like Jacqui Banaszynski and Marty Steffens, the 'real world' of reporting seems manageable," Ordóñez said. "In class, they treated us like professional journalists. The standard of reporting and writing in their classes is as high as in companies like Reuters."
In addition to the cash prize, Ordóñez will be recognized for her work in May at the Society of American Business Editors and Writers' annual conference in Anaheim, Calif.
Updated: April 16, 2020
Related Stories
Expand All
Collapse All
---