Missouri School of Journalism to Test New Digital Newsroom This Summer
'Missouri Business Alert' to Benefit State's Decision Makers on Business Issues
Columbia, Mo. (May 17, 2012) — A new digital newsroom will help key business decision-makers in Missouri gain a competitive edge. And the project will give Missouri School of Journalism students another hands-on newsroom opportunity, one that focuses on business journalism.
The "Missouri Business Alert" will be an online business news service that provides timely updates, insights, analysis and succinct summaries about, but not limited to, legal, legislative, financial and agricultural news. The Alert also will cover industries and corporations that drive the state's economy. A beta test of the website is scheduled for this summer.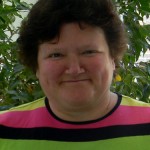 "The current lack of business coverage in the state is a giant opportunity for our students," said Randy Smith, the Donald W. Reynolds Endowed Chair in Business Journalism.
The idea for the Alert began last year during a conversation Smith had in Columbia with Regional Economic Development Inc. President Mike Brooks and Boone Electric Cooperative CEO Todd Culley. They wished for an easy and quick way to learn what was happening business-wise in Missouri such as they had when both lived in Indiana. There, a statewide business publication sent an email update twice a day.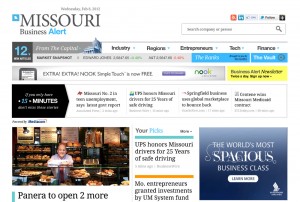 Smith said the school is uniquely equipped to launch the Alert. Two endowed chairs are dedicated to business journalism: Smith's, along with Marty Steffens, the Society of American Business Editors and Writers chair. The time-honored Missouri Method has trained some of the world's leading journalists in community-based newsrooms for more than a century.
Doctoral student Alecia Swasy will edit the pilot project and supervise five student interns this summer. Swasy brings impressive business journalism credentials to the Alert. She worked as a reporter for The Wall Street Journal and as assistant managing editor for North American Equities/Dow Jones Newswires. Swasy is the author of two corporate biographies: "Soap Opera: The Inside Story of Procter & Gamble" and "Changing Focus: Kodak and the Battle to Save a Great American Company," both published by Random House.
Each of the three news interns will have geographic and industrial beats in the major business hubs of St. Louis and Kansas City. While the primary focus will be on publicly-held companies, Swasy said they will look for smaller companies and entrepreneurs who can offer stories, such as "lessons learned" along the way or a Q&A on leading through rocky times. Some of the industrial beats will include agriculture, technology, small business, among others.
The two sales interns will focus on publicizing the site to attract subscribers. They also will work on social media platforms to build traffic to the site.
"This is a tremendous opportunity to teach students how to connect Missouri's main streets to Wall Street," Swasy said. "Business news will continue to grow along with the global economy, and we can teach students how to cover it."
The goal is to launch the full site in September. New business journalism courses will be developed and offered during the spring 2013 semester.
Smith said that the Missouri Business Alert is attracting significant funding from investors, including the Reynolds Journalism Institute.
"All of us believe we are creating a legacy project that will uplift students for generations to come," said Smith.
Updated: June 8, 2020
Related Stories
Expand All
Collapse All
---