MU to Award Honorary Degree to Journalist Byron Calame, BJ '61
By Kate McIntyre
MU News Bureau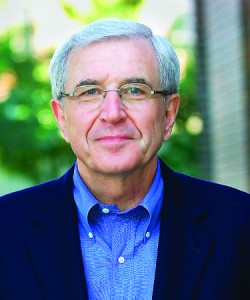 Columbia, Mo. (April 20, 2011) — Over the past four decades, Missouri native and University of Missouri alumnus Byron E. "Barney" Calame has dedicated himself to the practice of ethical journalism and to the education of aspiring journalists. For his work in the field of journalism, the University of Missouri will present Calame with an honorary degree at the May 2011 Graduate School's Commencement Ceremony.
Calame received his bachelor's from the Missouri School of Journalism in 1961 and a master's in political science from the University of Maryland.
He began working for The Wall Street Journal in 1965. During the next 39 years, he held positions from reporter to deputy managing editor. In his final position, Calame was responsible for quality control and upholding the ethical standards of the Wall Street Journal as well as continuing to report for the newspaper. He also took charge of the paper in the absence of the managing editor. When Calame retired at the Wall Street Journal, T-shirts were produced for the staff that read, "What would Barney do?"
In 2005, Calame began a two-year term as the public editor and ombudsman for The New York Times. As the readers' representative, he responded to the public's comments and complaints and monitored the staff's journalistic practices. Calame is known throughout the journalism community as a person with impeccable integrity and the highest ethical standards.
Calame also is a supporter of young people entering journalism, serving as the head of the Dow Jones News Fund program, which provides paid internships for aspiring journalists.Calame is the husband of fellow honorary degree recipient Kathryn Calame, professor of biochemistry and molecular biophysics and microbiology at the Columbia University College of Physicians and Surgeons. The couple has two grown children.
Honorary degrees are awarded to graduates or former students who have achieved distinction. Degrees also are awarded to people who have rendered distinctive service to the state or the university, as well as people of high distinction from around the world.
Calame will receive his degree and speak at the Graduate School's commencement ceremony at 8 p.m., Friday, May 13, in the Hearnes Center on the MU campus.
Updated: May 29, 2020
Related Stories
Expand All
Collapse All
---