Students Add Interactive Mapping to Their Journalism Toolkit After Workshop Hosted by ONA Mizzou
Columbia, Mo. (Feb. 12, 2014) — More than 50 students and faculty members packed a room in Walter Williams Hall on Jan. 30 to learn the basics of interactive mapping – a skill many wish they knew but thought was too time-consuming to learn.
Journalists in markets large and small are increasingly required to understand the fundamentals of online mapping and create simple clickable maps to enhance their stories. Google Maps is an example of an interactive map.
Online News Association Mizzou organized the workshop and recruited David Herzog, associate journalism professor and academic adviser to the National Institute for Computer-Assisted Reporting, to lead it. Herzog trains professional journalists on working with data and is the author of the book "Mapping the News: Case Studies in GIS and Journalism."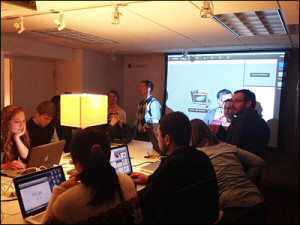 Herzog highlighted innovative examples of mapping in journalism and introduced attendees to a slew of online cartography tools. These included Leaflet, CartoDB and Many Eyes. Then, after the attendees downloaded the sample data he prepared, Herzog gave a step-by-step lesson on building clickable maps with Google Fusion Tables.
"It was really heartening to see such a great turnout for the workshop, so many students hungry to learn how to build interactive maps," Herzog said.
Many, including ONA Mizzou adviser Amy Simons, walked away feeling empowered.
"This workshop demystified mapping for me," Simons said. "I used to think it was a highly specialized skill that required extensive knowledge of coding. I know I'm a long way from being an expert, but I'm confident if I had data in front of me and needed to build an interactive map with it, I could do it now."
And some caught the mapping bug.
"Looking for reasons to build a map at work today," tweeted Nathan Byrne, a managing editor at Columbia-based news startup Newsy.com. "Thanks for the great event last night, @davidherzog and @ONAMizzou."
Thanks to technical assistance from Professor Mike Jenner, the School's Houston Harte Chair in Journalism, Herzog was able to live stream the event.
"When we realized we had an overflow crowd, it was easy to share the live presentation with those who couldn't fit into the main room," Jenner said. "I know we had a handful of users around the country who tuned in."
The event was a boon for ONA Mizzou, which was founded in 2011 by students in a convergence journalism capstone course. The club has been steadily gaining membership and online prominence. Its Twitter account has nearly 1,100 followers.
"I've been an ONA Mizzou student leader for about two years now, and this was easily a top-five event for us," said club President Andrew Gibson. "Whenever we organize events that give students the chance to walk away with a new skill in their toolbox, we consider it a success."
More information about Herzog's presentation is available at the ONA Mizzou website.
Updated: July 22, 2020
Related Stories
Expand All
Collapse All
---