KOMU-TV Rolls Out New Studio Set Design
New Look Provides One-of-a-Kind Educational and Viewing Experience
Columbia, Mo. (April 27, 2009) — KOMU-TV unveiled a new high-definition set design this April, which provides unique opportunities for the station's news team and new learning experiences for the more than 150 journalism students who prepare for their industry careers at KOMU 8 each semester.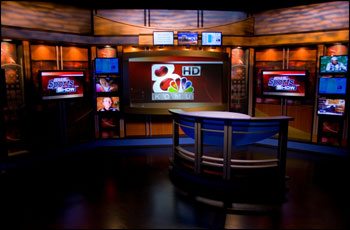 "The new set better prepares our students for the challenges they will face at any TV station in any size market," said Marty Siddall, KOMU general manager.
The dozens of students who work each KOMU newscast now experience a studio set that features many new capabilities for producers and reporters, as well as for the student meteorologists from the University of Missouri Atmospheric Science Program who receive on-air experience at the station. These new features include:
an interactive touch-screen to display animation, moveable maps and graphics;
increased in-studio locations and monitors for delivering news and sports reports; and
enhanced weather presentation capabilities.
News Director Stacey Woelfel said, "The new set is a teaching tool for us. Television stories are short, so it's important we give our students the best tools to effectively make the information more understandable for our viewers."
"We've long prided ourselves on providing our students with state-of-the-art learning experience at KOMU 8," said Kent Collins, chair of the Missouri School of Journalism's radio-television journalism emphasis area. "Our equipment and systems reflect the leading technology our grads will find in any of America's best television stations. Now we've got a studio set to further help our students deliver daily, community-based newscasts at a professional level."
KOMU is the only university-owned commercial television station in the United States that uses its newsroom as a working lab for students. The station is a self-funded auxiliary enterprise of the University of Missouri.
Updated: May 1, 2020
Related Stories
Expand All
Collapse All
---