J-School Student Wins RTNDF President's Scholarship
Columbia, Mo. (Aug. 5, 2005) — Hayley Salvo, a senior broadcast journalism major at the Missouri School of Journalism, recently won the Radio-Television News Directors Foundation (RTNDF) President's Scholarship worth $2500.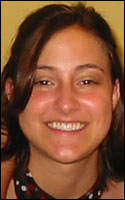 Salvo, originally from Carrollton, Texas, is a reporter and anchor for KBIA radio, the NPR affiliate station on the campus of the University of Missouri-Columbia. She is also one of several podcasting leaders at the School who attended the Apple Digital Campus Leadership Institute held at MU in April. Salvo will study abroad in London this fall as a member of the Missouri London Program.
"The scholarship is coming at the perfect time – to help finance my study abroad in London," Salvo said. "It also feels great to be recognized by members of the profession I hope to join."
Her other journalism experience includes co-founding Misery Weekly, a campus satire magazine and serving as assistant production manager and section editor for the MU Student News, an independent campus newspaper.
"This is a great compliment to Hayley's intellect, skilled writing and good humor," said Lynda Kraxberger, associate professor who nominated Salvo for the scholarship. "Her resume boasts everything from traditional radio storytelling to podcasting to launching a magazine. Hayley's a fun student to teach."
Salvo was one of 13 RTNDF scholarship and fellowship recipients from across the country. The Foundation is part of the Radio-Television News Directors Association (RTNDA), the world's largest professional organization devoted exclusively to electronic journalism, representing local and network news executives in broadcasting, cable and other electronic media in more than 30 countries.
Updated: April 7, 2020
Related Stories
Expand All
Collapse All
---