BBDO Managing Director to Deliver Raymond M. Solomon Memorial Lecture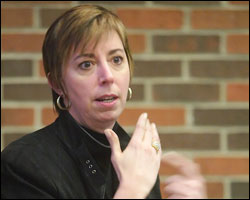 By Katie Costello
Columbia, Mo. (Feb. 13, 2006) — Nancy Hill, executive vice president and managing director of BBDO New York, will be the 2006 Raymond M. Solomon Memorial Lecture speaker. Her talk will begin at 5:30 p.m., Thursday, Feb. 16, in Fisher Auditorium.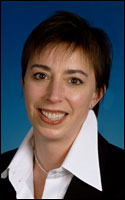 "Nancy Hill is one of the luminaries of the advertising industry," said Margaret Duffy, chair of the advertising sequence. "We're thrilled that our students and faculty will have the opportunity to get her insights on our rapidly changing business."
The family of Raymond M. Solomon, BJ '48, created the lecture fund in memory of their son after he was killed in a plane crash. The fund benefits students by bringing leaders in advertising and public relations to campus.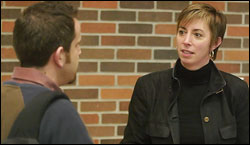 Hill oversees BBDO's largest accounts, including HBO and Visa, and helped launch the "Life Needs" and "Want a better Internet" campaigns for AOL. She has worked with @tmosphere BBDO to create integrated communications programs to support these campaigns. This included digital appearances by the AOL "Running Man" on broadcasts of Major League Baseball, the National Football League and the Academy Awards.
Hill started her career working in the recording industry and worked at Doner Advertising in Baltimore and TBWAChiatDay and Hill Holliday in San Francisco. In addition to being executive vice president and managing director of BBDO, Hill is on the Board of Directors at the Miami Ad School and on the faculty of BBDO University.
---
Katie Costello, of Wildwood, Mo., is a senior studying advertising. She graduates in December 2006 and hopes to work in public relations or at an agency somewhere in the Midwest.
Updated: April 8, 2020
Related Stories
Expand All
Collapse All
---