Public Relations Executive Shares a Vision of 'Complete Communications' During the Raymond M. Solomon Lecture
The New Era Includes Aggressive Hiring to Meet Clients' Growing Needs
Columbia, Mo. (Dec. 27, 2012) — The public relations field is entering a new era of "complete communications," said Dave Senay, president and CEO of Fleishman-Hillard, during the 2012 Raymond M. Solomon lecture at the Missouri School of Journalism.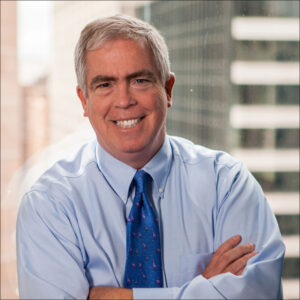 The presentation, "The Reformation of Communications," urged strategic communication students to be prepared to reach any person anywhere with the right message at any time through any channel.
Senay has worked at Fleishman-Hillard for almost 30 years. It is one of the world's largest public relations agencies. Fleishman-Hillard, headquartered in St. Louis, is part of Omnicom Group Inc., a leading global marketing and corporate communications company.
Senay identified six major trends that will affect the public relations field in the next five years.
Globalization
In his comments about globalization, Senay noted that 54 percent of Fleishman-Hillard's top 100 clients are served in more than one country; 64 percent of the agency's top 25 clients are served by at least eight of their offices. "Clients need local insights and capabilities combined with a global view," Senay said. "They need new perspectives, understanding and capabilities. They need to manage brand and reputation across many different countries and cultures."
Strategic Integration
Clients are looking for agency partners who can help them unify strategy, messaging and execution across multiple communications disciplines, stakeholders and geographies, Senay said. "We need to hire strategic counselors who understand the whole media mix across paid, earned, shared and owned channels."
Data, Analytics and Insights Planning
Senay noted that all communications are becoming more and more data driven, and agencies help clients extract intelligence, meaning and actionable insight. But the process doesn't stop there. "We develop the creative strategy needed to bring these insights to life and measure their impact across multiple channels, platforms and devices," Senay said.
Social Engagement
Everyone says they are in the social media business these days, Senay noted, and this can confuse clients. He said that social media is changing how companies are organized and operate. Public relations is in a unique position to facilitate collaboration between marketing, customer relations and other related functions.
The Rise of Reputation
The axiom that what you say about yourself today matters less than what others say about you is even more true with today's rise of social media. Managing reputation effectively in an environment where consumers have more control will become even more important in the years ahead – and more valuable, according to Senay.
Innovation
In a rapidly changing world, innovation has become critical to competitive advantage for almost every organization. Fostering organizational innovation is not only essential for clients, Senay points out, it is essential for Fleishman-Hillard, too. All of the strategies the agency is implementing now reflect its commitment to innovate its organization continually.
Senay said that Fleishman-Hillard is aggressively seeking people who can fill positions in areas that did not exist until recently. Social strategy, consumer engagement, brand/channel management are among the more than 20 new specialties.
"Our biggest challenge is adding talent fast enough to meet our clients' growing needs," Senay said, much to the delight of the students.
This was the second time Senay delivered the Solomon lecture. He presented "How Social Media Are Changing Communications" in 2008. The School hosts the annual lecture, which features a prominent advertising or public relations executive, in honor of Raymond M. Solomon, BJ '49. An advertising graduate of the School, Solomon was killed in 1959 in an airplane accident while traveling to a sales meeting in Anderson, Ind. Shortly after his death, one Chicago Daily News columnist remembered Solomon as a young, socially responsible professional "on his way toward making his mark in business."
In February 1963, Solomon's parents and widow, Gloria Solomon, BA '49, established the lecture series in his memory.
Updated: July 13, 2020
Related Stories
Expand All
Collapse All
---