Robert S. Leaf
Chairman at Robert S. Leaf Consultants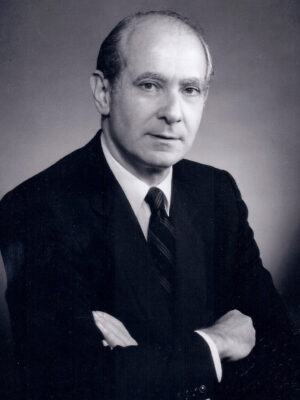 Degree(s): BJ '52 (Advertising), MA '54
Growing up in New York, N.Y., Robert S. Leaf, known as Bob, never imagined that he would embark on a career that would lead him to travel the world and be in charge of establishing worldwide strategy for the PR firm that was to become the largest in the world.
"I never pictured myself living and working internationally," says Leaf. "Growing up in New York, I never envisioned that some day I would travel to the countries that I did, let alone start public relations firms within those countries."
Leaf attributes his success in the public relations industry to his interest in communications and ability to work effectively with other people. As this ability crossed cultures, it became responsible for his success in international public relations.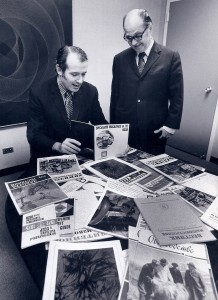 The School of Journalism: An Easy Decision
In his youth, Leaf envisioned himself pursuing a career in sports journalism because he was fascinated with sports and was passionate about writing. Selecting the University of Missouri was an easy choice for Leaf. He was already well aware of the reputation and prestige of the Missouri School of Journalism program. When comparing the University of Missouri to other colleges closer to home, the low fees for out-of-state students at that time and the countrywide recognition as the leading journalism school made the choice simple.
Leaf compensated his time away from his family by returning to New York to live and work each summer.
The Switch to Public Relations
After beginning his introductory courses in the Missouri School of Journalism and increasing his knowledge base dramatically, he began to question if the narrow area of sports writing could offer enough for his future. The boom in the advertising industry and explosion of television sales that was restructuring the advertising industry was occurring during Leaf's early years in school. The excitement created in the advertising industry from large advertising agencies such as Ogilvy & Mather and Young & Rubicam, and the work they were producing was attractive to Leaf. He shortly switched his emphasis to advertising, which also included a course on public relations. The public relations course covered the basis of communications, an interest that would change how we would come to envision his career path.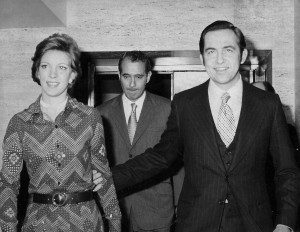 The public relations course Leaf enrolled in covered the fundamental background and history of the public relations industry. It provided information on the industry leaders at the time, such as Edward Bernays and Ivy Lee and historical campaigns that had been recognized in the field. Leaf attributes his interest in public relations to the fact that the course opened up career possibilities that would connect his personality and skills.
Outside of the classroom, Leaf became an active member of the Alpha Epsilon Pi fraternity and served as president for two years. The fraternity provided a place for relaxation and was where he developed core friendships, which still exist to this day. As the chapter president, Leaf particularly enjoyed organizing entertainment events at the chapter house, including internal concerts with the musicians for the most part, being the fraternity members. His interest in music still continues.
History in the Making
While learning more about public relations in the Missouri School of Journalism, Leaf also grew fascinated with history. This included a particular interest with Shakespeare, as a result of a Shakespeare literature course taught by Hardin Craig, a visiting professor in the English department who was also one of the world's authorities on Shakespeare at the time. Leaf's passion for Shakespeare carried with him after college and would later result in his assistance to Sam Wanamaker, an American who was responsible for launching the Shakespeare's Globe Theatre in London. Seventeen years after the theatre's launch, Leaf still acts as an advisor to the Globe, which is considered to be one of England's most successful theatres.
This keen interest in learning more about history and international relations led Leaf to continue his education at the University of Missouri after he received his Bachelor of Journalism in 1952. He enrolled in the History Department and received a MA with honors two years later. He credits his the mixture of studies in Journalism and History as the foundation for his later success.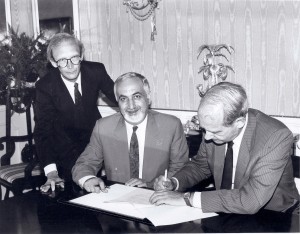 After graduation, Leaf drafted in the military for two years and became an information and education specialist, with the role of lecturing troops stationed in France. Upon leaving his position in the army, he began looking for work in the field of public relations.
He began to interview with companies with PR departments and established public relations consultancies. Although Leaf was presented with several employment opportunities, he was drawn to the small agency environment of Burson-Marsteller. At the time, Burson-Marsteller was part of the advertising agency, Marsteller, Rickard, Gebhardt and Reed, which has been operating for a few years.
Beginning at Burson-Marsteller
The interview process for Burson-Marsteller was simple. The company was looking for a trainee and Leaf was very enthusiastic, but possibly too advanced for the job that the initial requirements called for. He met Harold Burson who told him "Bob, you want to learn about PR, you can start next Monday." So, Leaf accepted the position as the first trainee at Burson-Marsteller and joined six other executives along with Harold Burson.
While Leaf gained experience as a trainee, Burson-Marsteller was focused on business-to-business communications. At the time, Leaf was able to receive great mentorship from his senior colleagues because of the way the company operated. He excelled within the company because of his enthusiasm and curiosity to learn about the business, as it existed within a small agency and his desire to grow his knowledge. Within a year, Leaf earned a promotion as an account executive and later became an account supervisor. The mentorship provided by working directly with Harold Burson, who was later named by PR Week as the outstanding PR man of the century, played an instrumental role in his success throughout his career, Leaf claims.
Global Expansion
Early on, Burson-Marsteller recognized the need to expand its services to clients by opening locations globally. The agency began to talk to corporations with public relations and public affairs needs abroad. During the period, Leaf, who had been promoted to vice president international, began to travel the world as Burson-Marsteller's international representative.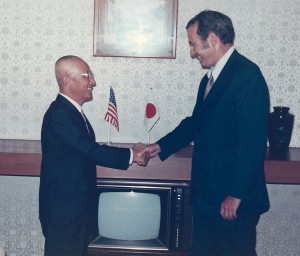 Leaf helped establish Burson-Marsteller's first international office in Geneva and then due to the Common Market, Brussels became the European headquarters, Leaf moved there for three years and set up offices throughout Europe. He then moved to London, where he still resides, and as International Chairman opened offices in Asia, Australia, South America and the Middle East. Today, Burson-Marsteller has 68 offices plus 70 affiliates worldwide.
"Helping the field of public relations grow, as well as seeing Burston-Marsteller become the largest PR firm in the world was an amazing experience to take part in," says Leaf.
He feels that two his greatest professional achievements includes signing an agreement with the Chinese Government in the Great Hall of the People in Beijing, establishing the first Chinese public relations firm and after giving a speech in Moscow during the height of the Cold War, being hired by the Russian State Advertising Agency, Vneshtogreklama, to represent them in the U.S, Russia's first agreement with any American communications company.
After Burson-Marsteller
In 1997, Leaf left his position at Burson-Marsteller to establish his own consulting agency, Robert S. Leaf Consultants. He currently advises corporations and individuals on strategy and how to execute it. He is a specialist in training senior managements on how best to get their messages across to key audiences. His consultancy offices remain in the Burson-Marsteller building, and the agency remains a major client.
Leaf is considered one of the most knowledgeable leaders in the field of international public relations. In 2000, Leaf won the Chartered Institute of Public Relations, first Alan Campbell Award for outstanding contributions to international public relations. He is listed in Who's Who in the World, Who's Who in America, Who's Who in International Business and Debrett's People of Today.
Leaf uses part of his time helping to educate others at events and conferences concerning global communications and marketing. He also spends time going to the theater, operas and concerts and interests he developed while attending the university.
Leaf still recognizes the contributions the Missouri School of Journalism has given him in his career path. "The University was a major factor in my being able to accomplish what I have been able to. The School introduced me to public relations and helped teach what it was capable of accomplishing," says Leaf.
Updated: November 9, 2011