Photojournalism Student Places in Top Ten of Hearst College Multimedia Competition
Senior Journalism Student Eve Edelheit Wins Second National Award for Her Multimedia Project, "Defying A Stereotype."
By Dolores Obregon
Planning and Communications Staff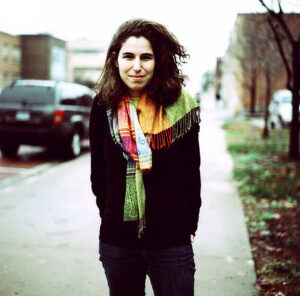 Columbia, Mo. (March 16, 2011) — Missouri School of Journalism senior Eve Edelheit placed in the top ten in the college multimedia category at the 51st annual William Randolph Hearst Foundation's Journalism Awards Program held recently in San Francisco. A total of 68 entrants from 40 undergraduate journalism programs across the nation participated.
Edelheit, of Hopkins, Minn., developed the project for her staff photography semester project for the Columbia Missourian. Her project, "Defying a Stereotype," is a story about LaNee Bridewell, a 23-year-old University of Missouri student mother who recognizes the stereotype she faces but refuses to perpetuate it. The project features the written and photographic story of Bridewell enjoying academic success as a young mother while also working two jobs and providing for her 18-month-old son.
This is the second national award Edelheit has received for the "Defying the Stereotype" project. The National Press Photographers Association (NPPA) awarded it a second-place recognition in its monthly contest.
"I worked with LaNee over several weeks, documenting her busy life in class, work, social events and everyday life with her son Jai," said Edelheit. "It's a privilege as a photojournalist to be able to have access to people's lives and tell their stories, and it was an honor to tell LaNee's."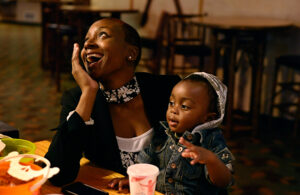 Journalism professors David Rees and Brian Kratzer nominated Edelheit to represent MU in the Hearst multimedia competition.
"What stood out about Eve's project was how Eve approached LaNee several times specifically for the audio, getting her to open up about her original fears of being a minority with a child and realizing now how rich her life is with her little boy," said Brian Kratzer, director of photography for the Missourian. "This audio was paired with intimate images of LeNee as a mother, a student and as a vibrant individual."
The Hearst Journalism Awards Program is conducted under the auspices of accredited schools of the Association of Schools of Journalism and Mass Communication, and fully funded and administered by the William Randolph Hearst Foundation. It consists of six monthly writing, three photojournalism and three broadcast news competitions and two multimedia competitions, with championship finals in all divisions. The program awards up to $500,000 in scholarships and grants annually.
Other schools participating in the Multimedia Competition included the University of North Carolina, Chapel Hill; University of Montana; Arizona State University; Western Kentucky University; Pennsylvania State University; New York University, Kent State University; University of Southern California; and Syracuse University.
Judging the multimedia competitions this year were: Geri Migielicz, executive editor, Story4, Ben Lomond, Calif.; Ursula Reutin, managing editor/news anchor, News Talk 97.3 KIRO Radio, Seattle; and Jennifer Sizemore, vice president/editor in chief, MSNBC.com and executive producer, NBC News.
Updated: May 21, 2020
Related Stories
Expand All
Collapse All
---