Around the World with Movie Director Tim Burton
Photojournalism Graduate Student Takes Unconventional Career Path
Columbia, Mo. (Feb. 28, 2008) — Life behind the camera lens has taken Missouri School of Journalism graduate student Leah Gallo many places. The most recent, and possibly most unusual, began with a chance meeting of director Tim Burton and led to the set of the Oscar-winning movie Sweeney Todd: The Demon Barber of Fleet Street.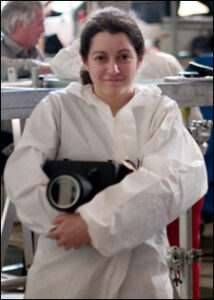 Gallo spent about 13 weeks on set with lead actor Johnny Depp and the cast and crew as a unit stills photographer for the movie. She also worked on a crew gift book for Burton and traveled with him during the premiere tour. Much of Gallo's success can be attributed to hard work during her years at the Missouri School of Journalism.
"You have to learn the craft of photography," Gallo said during a guest lecture this month. "You have to learn. You have to have talent, but you don't have to be James Nachtwey to succeed in this business."
In fact, Gallo came to the School as a novice photographer. Through her coursework and connections in the photojournalism area, she gained internship experience and learned photography skills that prepared her for future jobs. Gallo credits the photojournalism program, chaired by Associate Professor David Rees, and its talented faculty and students for encouraging opportunities outside the journalism industry.
"Though we use primarily a newspaper-based model for our instruction, knowing that there continue to be internships and job opportunities for our students, our students also are capable of working in the magazine and online publication areas," Rees said. "Leah has used her foundational studies in journalism and photojournalism and expertise in telling stories in the movie industry and has created tremendous opportunities for herself."
Rees said photojournalism models of study mainly include those for photographers and picture editors, but students can combine their studies with other areas. Students also are able to create their own models in consultation with faculty advisers and the dean of graduate studies.
Because Gallo wasn't always a photographer, she brought a different viewpoint to her work and took advantage of the flexible study models. She had worked in pharmaceuticals after completing her undergraduate degree, but fell in love with photography after documenting a cross-country trip.
"I had no idea how to use a professional camera when I first came here," Gallo said. "I cried my way through the first semester. I worked really hard to learn my camera. You have to take bad pictures if you're going to take good ones."
A trip to Mali, Africa, led to a semester off of school, but not her camera. Gallo turned a project she worked on into a one-credit course.
Upon her return, Gallo worked shooting more journalistic photos. Through her work she met Missouri Journalism graduate Dan White, BJ '80, and interned with him to learn more about portraitures. During this unconventional internship she learned more about lighting, Photoshop and printing.
"I pushed myself in any way I could photographically," Gallo said.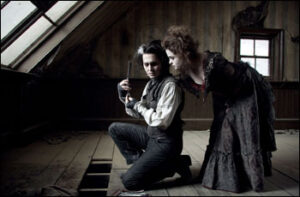 The following semester she earned a scholarship and returned to the School, doubling up on her class work and shooting as many photos as possible.
"You will get out of this program as much as you put into it," Gallo said. "You have to really focus your energy where it matters, and for me, that was the photography classes."
And that's when a friend introduced her to Burton. Burton has directed films such as Ed Wood, Edward Scissorhands, Charlie and the Chocolate Factory, and most recently Sweeney Todd. Gallo traveled to Tokyo with the two and was able to photograph a press junket one day. She painstakingly created a photo album as a thank-you, which impressed Burton. He liked her photos, but more importantly, he liked her. Burton invited her back to photograph the official scoring of the movie in London, but because of visa issues she wasn't paid. Gallo didn't care; she wanted the work.
Fortune stepped in once again, when Peter Mountain, the film's unit stills photographer, wasn't available for the first two weeks of the movie's filming. The work was much different than Gallo was used to, but she jumped into the 16-hour days and found out how to stay out of the way, something she learned at the School. Her work at the School also helped with toning and details in her photographs, she said.
"It was really scary because I hadn't done set photography before," Gallo said.
Once she was in, she became part of the "on-set" family. The return of Mountain wasn't the end of the line. The production hired her on to photograph a limited edition cast and crew book. Burton also had an "unspoken agreement" that she would document his travels. She traveled with him to Mexico and Italy and around the world for the Sweeney Todd premieres.
Gallo worked with graphic designer Holly Kempf on the cast and crew book. Kempf designed the book, and the two hope to continue to work together on future projects.
"I wanted to have a great product that would showcase our skills," Gallo said of her work on the book. "It's a great thing to put in a portfolio. I also wanted to create a great memento of the movie for the cast and crew. I poured myself into it as much (if not more) for this reason as for the portfolio aspect – I really came to care about the people on set."
She hopes to get additional jobs from the book and to work with Burton on other projects. Gallo said she would not have accomplished what she has now without her training at the School.
Rees also believes that the School provides photographers with ample training for whatever job they take in the future.
"I believe one of the strengths of the Missouri master's program is that it establishes excellence in journalistic skills and also provides an historical and conceptual framework for meaningful journalism and classic storytelling," Rees said. "Leah is very talented and intelligent, and has combined her previous life experience and Missouri education in ways that suit her both in the present opportunities, but which I believe will also serve her throughout her working career."
Though her career path is unusual, Gallo hopes to continue photographing for Burton. She encourages other students to look into different opportunities to showcase their skills. If you love photography, you really have to work at it, she said.
"There are other fields out there besides newspaper and magazine," Gallo said, "if you're not sure what you want to go into."
Updated: April 27, 2020
Related Stories
Expand All
Collapse All
---