Journalism Students Win Scholarships for Biotechnology Reporting
Print, Multimedia and TV Pieces Part of Biotech University Seminar
By Steve Veile
Project Manager
Biotech University
Columbia, Mo. (Feb. 14, 2011) — Five winners of the 2010 Biotech University Reporting Contest will be honored at an awards ceremony on Monday, Feb. 28, in the Fred W. Smith Forum at the Reynolds Journalism Institute at the Missouri School of Journalism.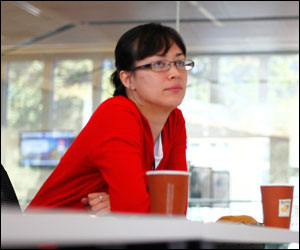 Lydia Mulvany, a graduate student in the print and digital news/convergence journalism emphasis areas, was awarded the grand prize trip overseas for her print piece "MU Researchers Discover Genes for Healthier Soybean Oil" and accompanying photos. In her work, Mulvany focuses on University of Missouri scientist Kristin Bilyeu as she competes with biotech giants to produce a better soybean:
"Soybeans…surround the 41-year-old University of Missouri professor…in her lab in Columbia. She researches the fuzzy, green pods for the USDA's Agricultural Research Service, working to develop a more perfect soybean using molecular genetics. And that perfect soybean may be on the horizon."
Second place winners are graduate student Anthony Schick for his multimedia piece "Sown Into Place" and sophomore Monica Ayala-Talavera for her multimedia piece "Biotechnology Aims to Heal, Fuel and Feed; Not Without Resistance." Both report on the benefits and controversies of biotechnology with a print story and interactive graphs. They will each receive a $2,000 scholarship.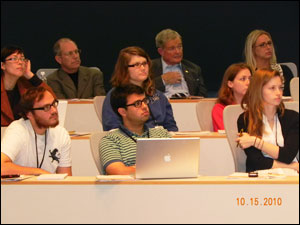 Third place winners are graduate student Rosellen Downey for her print piece "A Second Chance At Life: The Journey of the American Chestnut" and freshman Amanda Sohaney for her television report "Biotechnology." Downey reports on the loss of three billion chestnut trees to an Asian parasite and a North Carolina State University researcher's quest to restore the lost species, while Sohaney looks at how biotech works and discusses the role it may play in reducing world hunger. Each will receive a $1,000 scholarship. Second and third places were divided into graduate and undergraduate categories.
Participants in the reporting contest attended the Biotech University seminar, a two-day event designed to introduce Missouri School of Journalism students to the emerging science of biotechnology. It was sponsored by the United Soybean Board (USB) and co-sponsored by the Missouri School of Journalism and the National Center for Soybean Biotechnology. Experts on biotechnology explained the science, gave hands-on demonstrations of it, and discussed the scientific, business and political issues surrounding the important technology.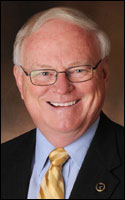 Richard Fordyce, a soybean farmer from northwest Missouri and chairman of USB's Biotech Initiative, will speak briefly and then present the awards to the winning students. Brief remarks also will be made by Brian Brooks, the School's associate dean, and Henry Nguyen, director of the National Center for Soybean Biotechnology, located on the MU campus.
Forty-four journalism students registered for the workshop and of those, 24 completed the requirements to enter the reporting contest and were invited to write articles or develop broadcast stories about biotechnology. News articles, feature stories, and video, audio, and multimedia pieces are among the items students submitted for review and scoring by a panel of independent judges.
The Biotech University program is funded by the United Soybean Board, which is composed of 69 farmer-directors who oversee investments of the soybean checkoff, a research and promotion program funded by U.S. soybean farmers.
USB is made up of 69 farmer-directors who oversee the investments of the soybean checkoff on behalf of all U.S. soybean farmers. Checkoff funds are invested in the areas of animal utilization, human utilization, industrial utilization, industry relations, market access and supply. As stipulated in the Soybean Promotion, Research and Consumer Information Act, USDA's Agricultural Marketing Service has oversight responsibilities for USB and the soybean checkoff.
Updated: May 20, 2020
Related Stories
Expand All
Collapse All
---