Missouri School of Journalism Senior Wins Jeopardy! College Championship Quarterfinals
By Lauren Walsh
Master's Student
Columbia, Mo. (Feb. 17, 2010) — Missouri School of Journalism senior Lindsay Eanet won the quarterfinals of the "Jeopardy!" College Championship before losing in the semi-finals. The victory earned her $10,000 and a replica of the College Championship trophy.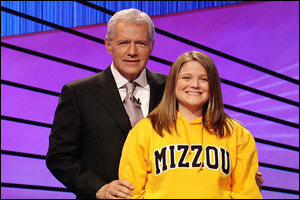 Eanet was one of 15 students nationwide to compete in the College Championship series. In the quarterfinals, Eanet, a magazine journalism major from Illinois, beat students from Yale University and the University of Texas at Dallas.
Eanet led in the semi-finals by $3,000, but an incorrect answer to a question in the "American Heros" category cost her wager of $16,543.
"I think my education definitely had some role in my performance. Studying journalism compels you to be informed and to constantly be reading and learning new things," Eanet said. "I think the field attracts people with a natural curiosity and lust for learning, so in that sense, just the constant influx of new knowledge and information. I think my education here helped."
She continued, "The experience was unbelievable. I got to meet some fun and interesting students from all over the country, and I got to cross off one of the top items on my bucket list, so this is something I'll never forget."
The grand prize for the "Jeopardy!" College Champion is $100,000, followed by $50,000 for the second-place contestant and $25,000 for third place. Semifinalists receive $10,000.
Updated: May 6, 2020
Related Stories
Expand All
Collapse All
---