Where Are They Now? Morgan Uber, BJ '15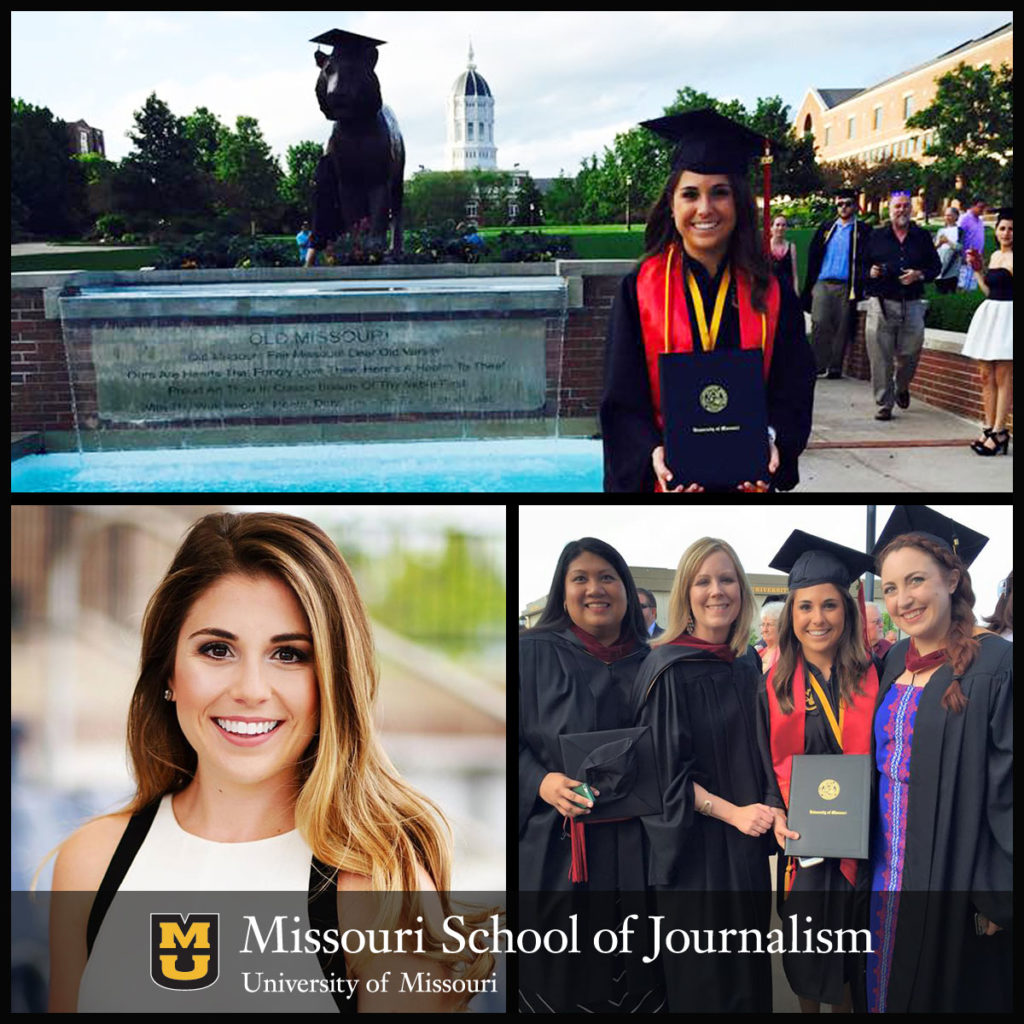 Interview by Kiersten Kuc
Tell us a little bit about yourself. What area did you study in the J-School, and where are you working now?
I came to the Missouri School of Journalism from Dallas, knowing this was the best place for me to be prepared for the working world. I studied broadcast journalism with a sports emphasis. Before graduating from Mizzou, I actually was employed by Fox Sports Midwest as a freelance reporter covering the Kansas City Royals. The Royals went on to win the World Series that year. I would interview players and Manager Ned Yost before and after every home game as well as give post-game reaction from the clubhouse.
My next career move, which is where I am now, was to the Patriot League as the network correspondent. I shoot, edit and write all of my own feature stories of the student-athletes in the Patriot League. I also sideline report for football and basketball Patriot League games. I am extremely passionate about college sports, and this is the direction I have always dreamed for my career.
How did you find out about the position? Describe the job search process.
The Fox Sports Midwest job was actually through the Mizzou Mafia (informal alumni network), which is one of the many things that makes the Missouri School of Journalism so great. A producer at FSMW reached out to Randy Reeves, the news director at KOMU-TV, and he sent out an email blast to everyone involved at the station. From the email the producer sent, it sounded like it was a photographer job, but I put in for it anyway.
This goes to show you that you should follow up on every opportunity in this industry that you can get because you never know what it may turn into. My position with the Patriot League I found through both Indeed.com and the NCAA's website, ncaamarket.ncaa.org. This is a great resource for students wanting sports broadcast career paths and because of it I made a 1,500 mile move up in Bethlehem, Pennsylvania, not knowing a soul four weeks after my very first phone interview. After a phone interview, I was brought in for an in-person interview and was offered the position the very next day I returned home.
Did you take any particular classes in the J-School that prepared you for your role?
I think each of my classes in my broadcast area prepared me for my current role. The one-man-band aspect I learned at KOMU is what I do now. I will say Broadcast 2 prepared me the most. I was in one of the last classes to have professor Greeley Kyle, and the lecture he gave on stress and taking time for yourself each day stands out to me and has proven to be so true. I get so wrapped up in my job because it is exciting and it is exactly what I want to be doing, but I have figured out that I excel the most when I am taking the best care of myself. (Note: Kyle is an associate professor emeritus at the School and has since joined the journalism faculty at the University of Massachusetts Amherst.)
What does an average day look like on the job?
Each day is so different in my job, and that was truly one thing that attracted me to the journalism field so early on. Some weeks I am traveling to each of our different campuses doing interviews with student-athletes and coaches, while other weeks I am at the office writing, editing and voicing my stories. The great thing about this position is that all of our schools are within 5 hours of each other, so I do travel very frequently. I also do daily in-studio shows to give recaps and highlights from all of our different sports within the Patriot League. During football and basketball season, I am a sideline reporter on the weekends.
What advice do you have for students currently enrolled in the Missouri School of Journalism, and particularly your area?
I think finding a mentor within the J-School is absolutely critical once you get into your area. I couldn't have done it without professor Kent Collins. You'll notice that these professors aren't just part of your experience at Mizzou, but really they are teachers and mentors for the rest of your career journey. Learn to take criticism from them, because it is only going to make you better. Also, don't be afraid to have your own style when it comes to reporting. While I do look to experienced sports reporters to see how they do things, being yourself and developing your own style is what is most important!
Updated: October 6, 2020
Related Stories
Expand All
Collapse All
---