Students Bring Home the Gold in Fox Sports University Competition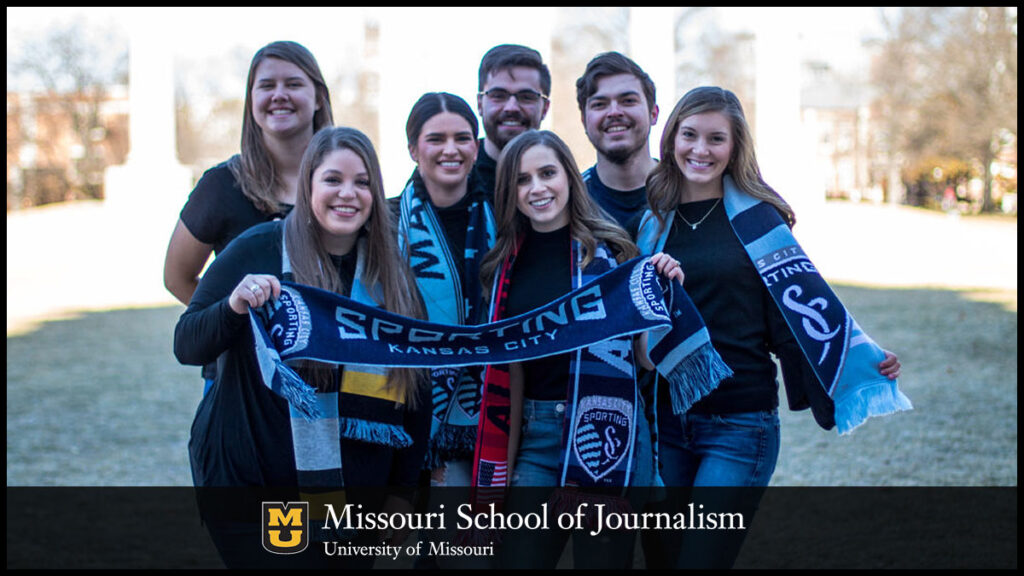 Columbia, Mo. (July 27, 2018) — Strategic communication student Shelby Connelly had hoped to work in the Fox Sports lab as part of the AdZou capstone since she was a sophomore. Little did she know that she would be one of seven students on Team Black and Goal during the 2018 spring semester who won the Fox Sports University competition.
Each of the four senior capstone teams from the Missouri School of Journalism were challenged by Fox Sports Midwest and Sporting KC to develop creative and innovative strategies to drive tune-in of Sporting KC on FSKC. The ultimate goal was to increase excitement for game broadcasts and awareness of where and when upcoming regular season games could be found.
Scott Fuenfhausen, the instructor of the Fox Sports lab, was excited for his students to begin the creative process and pool all of their ideas together.
"I always learn something new with the ideas that are produced by the teams," he said. "They have a youthful exuberance that brings today's technology into the marketplace."
Through months of research and preparation, the members of Team Black and Goal crafted a unique approach that put a modern twist on typical advertising campaigns. The students focused on an insight that becoming a Major League Soccer fan as a millennial was a choice one makes on their own rather than a passion that is shared by parents or grandparents like most other sport's teams. This led to their big idea.
"It kind of took us a minute to come up with our big idea," said Shelby Connelly, PR account executive for the team. "We had all this great research and insights, but we were trying to find the right message that encompassed everything we wanted to say."
The students finally settled on "Join the Club" as their theme. The campaign placed special attention on influencer marketing and an on-brand experience that came to fruition in the creativity of the final presentation.
Team Account Executive Adrienne Martinelli said her team's proposal stood out for its cohesiveness and how their theme designs matched with what Sporting KC was currently implementing.
"We presented them with very tangible ideas that could seamlessly work with Sporting KC's current promotional materials," she said.
The four AdZou teams presented their campaigns to a panel of Fox Sports and Sporting KC attendees, who chose a winning team. Team Black and Goal was delighted to see its hard work pay off.
"I grew so much throughout the process and walked away with a campaign I'm proud to show and love to talk about," Connelly said. "It was the perfect way to wrap up everything I learned over my four years in the J-School."
Members of Team Black and Goal
Adrienne Martinelli, Account Executive
Lauri Riddell, Account Planner
Shelby Connelly, Public Relations Account Executive
Kristen Kaestner, Graphic Designer
Jake Boeding, Copywriter
Chase Lutz, Digital Media Specialist
Eli Schnieders, Media Planner
Members of Team Starting 7 Sports
Kortney Geegan, Account Executive
Hayley Russell, Account Planner/Researcher
Jamie Goodman, Public Relations Account Executive
Hannah Eggert, Graphic Designer
Mario Bravante, Copywriter
Abigail Kintz, Digital Media Specialist
Alison McCall, Media Planner
Members of Team Equalizer
Kayla Andrzejewski, Account Executive
Connor O'Neil, Account Planner/Researcher
Matt Puttin, Public Relations Account Executive
Emily Johnson, Graphic Designer
Rewdjety Redick, Copywriter
Brooke Robinson, Digital Media Specialist
Cady Lowery, Media Planner
Members of Team Defenders
Emily Miller, Account Executive
Meg Reynolds, Account Planner/Researcher
Emma Mazza, Public Relations Account Executive
Lauren Whitley, Graphic Designer
Annie Vilks, Copywriter
Patrick Windsor, Digital Media Specialist
Kylie Magar, Media Planner
Updated: November 4, 2020
Related Stories
Expand All
Collapse All
---