Five journalism and strategic communication students honored in Mizzou '39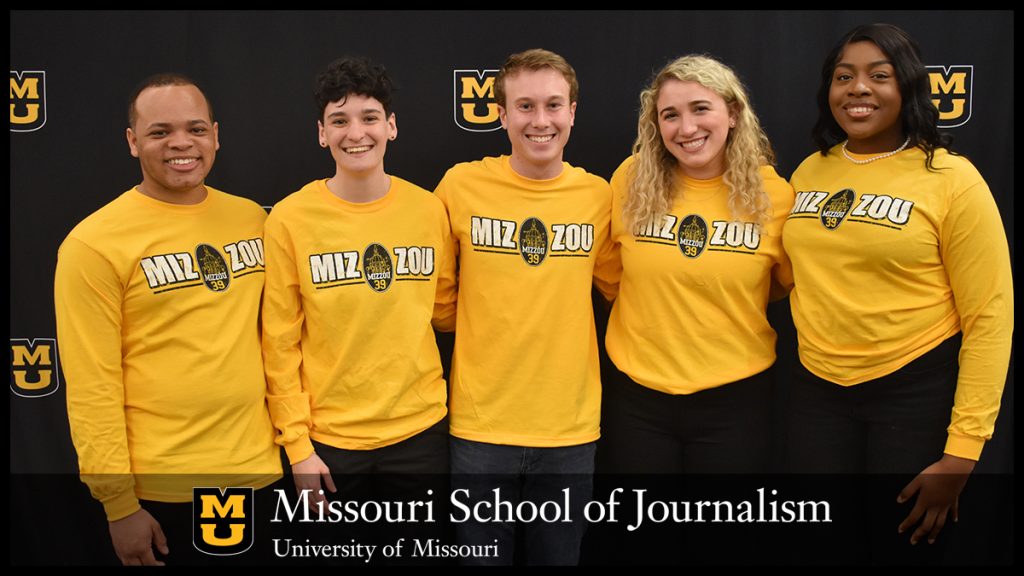 COLUMBIA, Mo. (March 3, 2023) — Five students at the Missouri School of Journalism were unveiled as members of the Mizzou '39 Class of 2023 during the annual ceremony Wednesday night at Mizzou's Traditions Plaza.
Seniors Dany Fischer, Gold Kaanagbara, Avery Everett Maslowsky, Jack McGrath and Gehazi Whitehurst were among the 39 undergraduates — alongside 18 graduate students known as the Mizzou 18 — honored for "leadership, scholarship and service to the community."
"These students have earned this prestigious honor through excellent work and strong character that reflects proudly on the School of Journalism," said David Kurpius, dean of the School. "Their community-minded work across a variety of disciplines represents the highest standards of the School's mission of impactful service through journalism and strategic communication."
In traditionally dramatic fashion, the students were unveiled after backing up onto the plaza stage in hooded garb to conceal their identities. Each were accompanied by a mentor of their choice.
Awarded since 2005, Mizzou '39 commemorates the founding of the university in 1839 while honoring outstanding students who represent the university's core principles.
Meet the honorees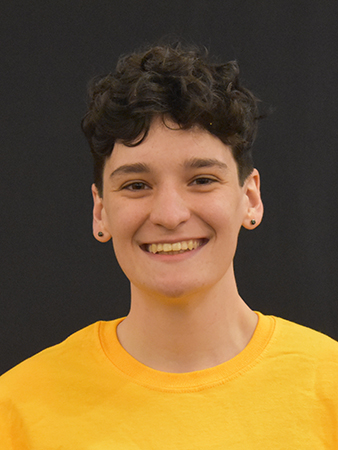 Dany Fischer of Ballwin, Missouri, is studying strategic communication at the School of Journalism. She already has a job lined up for after she graduates in May; she will head to Washington, D.C. to serve as program director of the digital arts and design program with the National Student Leadership Conference at American University.
Fischer chose Associate Professor Jim Flink as her mentor and recalls the lasting impact of his hands-on, Missouri Method approach to learning.
"The first big project we worked on [in Flink's visual storytelling class] was a BMW commercial that we filmed using a real BMW and drone on the quad," Fischer said. "I talk about that in just about every job interview I have, and it was one of the coolest experiences I've had in or out of a class in the J-School."
Her Mizzou '39 honor caps an educational journey that began at the age of 7, when she created a newspaper with her sister that documented the exploits of her pet guinea pig — an early example of the passion that would lead her to the School of Journalism.
Gold Kaanagbara from St. Louis is vice president of Mizzou ASA, the university's African Students Association. She plans to move on to law school in the fall, putting together the skills she developed from dual degrees in journalism and sociology.
Kaanagbara said her time at the School of Journalism has opened her eyes to the breadth of opportunities available to graduates of the School — opportunities she witnessed firsthand during the recent NABJ-MU Media Tour.
"[The Media Tour] has brought me into connection with a lot of amazing people in the journalism field who are doing amazing work in their community," Kaanagbara said. "I was just so astonished at all the different aspects and versatility that come with a journalism degree."
With the help of her experiences as a strategic communication student, along with the support of her mentor, Antoinette Landor of the College of Education and Human Development, she feels ready to take the next step in her life and career.
"Mizzou has definitely given me the skills and professionalism to feel confident in the world I'm stepping into," Kaanagbara said. "When I think about a home away from home, I can truly say with no reservation that Mizzou is that home."
Avery Everett Maslowsky came to Mizzou from Berwyn, Pennsylvania, and she hopes to become a broadcast news reporter — a choice that comes as no surprise given her award-winning work for KOMU-TV, the School of Journalism's NBC affiliate TV station.
"I know the skills I've picked up at the School of Journalism and by reporting out at KOMU will take me far," Maslowsky said. "Over the past four years, I've been able to carve and discover my own path in journalism, and I've also found a greater responsibility of making this campus more community oriented."
Everett credits KOMU News Director and Associate Professor Jeimmie Nevalga, her mentor and "biggest cheerleader," for helping her find that path.
"Jeimmie is the type of teacher who lets you dream and finds a way to make it possible," she said. "She leads by listening…and is the person who holds me accountable and pushes me to be the best journalist and human I can be."
Jack McGrath hails from Wheaton, Illinois, and is currently the sports director at KCOU-FM, where he leads a staff of more than 60 broadcasters and writers. With plenty of experience calling the play-by-play for Mizzou sports, he feels prepared to turn that practical experience into a successful career.
"I love telling the stories of sports and hope to continue doing so," McGrath said. "I especially love play-by-play and have an end goal of working as a play-by-play broadcaster."
His mentor, Associate Professor Elizabeth Brixey, made herself available early on in his collegiate career as an anchor of academic and emotional support.
"Her kindness had a lasting impact on me and has been something I've hoped to emulate in my own life," McGrath said.
For Gehazi Whitehurst of St. Charles, Missouri, becoming a member of Mizzou '39 seems like a destiny fulfilled. The honor has been on his radar since his Summer Welcome visit to the campus before his freshman year, when his group's leader mentioned that "maybe one of you will be up there." Later, when he became a Summer Welcome leader himself, he passed on those words of encouragement when leading groups past Traditions Plaza.
"I've always been one to doubt myself and my abilities, but I've had such a strong support system here that encouraged me to 'reach for the stars,'" Whitehurst said. "Being honored as a member of Mizzou '39 is a blessing and a reminder to myself that anything is possible and that I did the hard work to be here."
Currently a marketing team lead at the Mizzou Center for Academic Success and Excellence, which provides individualized support to students from underserved and underrepresented backgrounds, Whitehurst hopes to become a brand strategist in advertising and public relations. That goal has found a bedrock of support in his mentor, Associate Professor Jamie Flink.
"I feel so much more confident in what I want to do after graduation and who I am in the world of strategic communication because of [Flink's] passion and guidance, especially this year in MOJO Ad," he said. "Jamie has always seen me for who I am completely and what I can accomplish, even when I didn't see it."
Updated: March 3, 2023
Related Stories
Expand All
Collapse All
---