Missouri School of Journalism leads industry toward newest TV broadcast standard, ATSC 3.0, as part of Next Gen TV Fellowship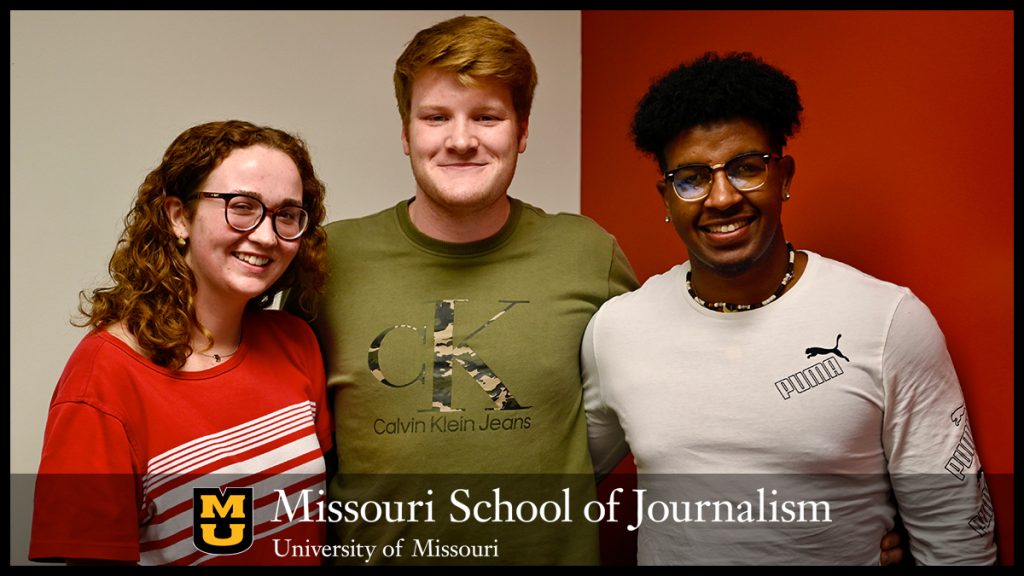 COLUMBIA, Mo. (Nov. 17, 2023) — Three Mizzou seniors are working under the guidance of Jim Flink, an associate professor at the Missouri School of Journalism, to help revolutionize broadcast television.
Along with a team from Howard University, the students are part of the National Association of Broadcasters' (NAB) Next Gen TV Fellowship, which tasks them with building a realistic use case for ATSC 3.0 — the newest transmission standard in broadcast television that, in addition to improvements in image and sound quality, allows stations to incorporate elements like social media feeds and personalized content into the viewing experience.
"The Missouri Method is about putting students in real-world situations and creating impactful work for our community," said David Kurpius, dean of the School of Journalism. "This fellowship is a great opportunity to serve that mission while lighting the path forward for industry adoption of this exciting new broadcast standard."
Just as 5G is now the industry standard for cellular networks, ATSC 3.0 is the newest standard for television broadcasting. But unlike the initial transition to ATSC 1.0 in 2009, which required stations to switch from analog to digital signals, the move to ATSC 3.0 is not mandatory.
As a program of PILOT, the NAB's innovation arm, the fellowship seeks to not only identify novel ways to implement the technology but to encourage its continued adoption in the industry.
"Our charge is to define a problem that this technology can solve and find a solution that has utility in the Columbia marketplace," Flink said.
The interdisciplinary group of students — finance major Charles Dake, information technology major Amanuel Hailemariam and journalism major Shannon Worley — hopes to accomplish that by developing a project that addresses healthcare needs by making relevant health information available on demand through television.
While building their project, the team will also take part in training programs, seminars and one-on-one coaching with Net Gen TV experts and representatives of Amazon Web Services, which supports the fellowship. The project is still in its early stages, as the students won't present their final work until April 2024 at the NAB Show in Las Vegas. The team is currently planning a visit to KOMU, the School's NBC affiliated TV news station, to learn more about the needs of the local broadcast community.
"The PILOT Next Gen TV Fellowship is a one-of-a-kind opportunity for students to get real-life experience in broadcast technology, learn more about television innovation and work beside industry experts," said John Clark, executive director of PILOT. "We're thrilled to partner with Howard University and the University of Missouri for this year's program that will provide fellows an immersive journey into the next generation of television."
Meet the students
Charles Dake, a finance major in the Trulaske College of Business, already has experience working with Flink on health-related media. Flink had previously recruited him to work on a student documentary for global healthcare company Roche. As with that project, Dake's focus now is on solving problems with technology and sound strategy.
"I want to understand the issues in whatever sector I'm working in," Dake said. "From there, how can we develop a solution that is implementable?"
It turns out that the "implementable" part is a key reason why Dake is on the team.
"Charlie is really good at figuring out organizational structures and systems," Flink said. "We needed people who could build a product, but we also needed someone who could actually take that product to market."
Dake hopes to build a career in finance in the healthcare sector.
Amanuel Hailemariam is studying information technology in the College of Engineering and interned as a software engineer at H&R this past summer — an ideal educational resume for a project centered on innovative technology.
"With new technologies, I'm always fascinated," Hailemariam said. "I want to do work in the software engineering industry, and when I started doing research into ATSC 3.0, I saw some opportunities."
His practical engineering skills are an important part of the team's ability to turn ambitious ideas into reality.
"Amanuel came to us highly recommended, particularly for his ability to handle product development," Flink said. "He can take everything and turn it into a code that will yield a marketplace product."
Shannon Worley, as the team's representative from the School of Journalism, is studying social media and audience strategy. This summer, she interned with KMOV, the CBS TV news affiliate in St. Louis, and has gained experienced at a variety of news outlets in her time at the School.
"I knew this project had to do with television viewership, and I also have a minor in entrepreneurship and innovation, so I'm really excited about this," Worley said. "This is like my niche."
While the team's project centers around healthcare, she said she is also interested in ATSC-3.0's potential applications in news, particularly for integrating social media elements like vertical video and real-time X feeds.
"I consulted with Professor Damon Kiesow on finding a student who combined the best of journalism knowledge with an additional focus on audience development and engagement strategies," Flink said. "She's maintained her energy and enthusiasm throughout the project, providing valuable insights and taking a leadership role on the team in the journalistic elements that are so central to what we're trying to accomplish."
About PILOT
PILOT is a coalition of innovators, educators and advocates dedicated to advancing broadcast technology and cultivating new media opportunities. PILOT propels broadcast television and radio into the future. It provides a platform for innovation, an engine for incubation, a venue for testing new technologies and a forum for broadcaster education. Learn more at www.nabpilot.org.
About NAB
The National Association of Broadcasters is the premier advocacy association for America's broadcasters. NAB advances radio and television interests in legislative, regulatory and public affairs. Through advocacy, education and innovation, NAB enables broadcasters to best serve their communities, strengthen their businesses and seize new opportunities in the digital age. Learn more at www.nab.org.
Updated: November 17, 2023
Related Stories
Expand All
Collapse All
---