One of the Nation's Best-Known Business Journalists to Speak at the Missouri School of Journalism on Friday, Oct. 25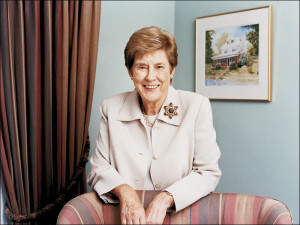 Carol Loomis of Fortune Magazine Has Profiled Warren Buffett and Covered Global Accounting Scandals
Columbia, Mo. (Oct. 22, 2013) — Carol Loomis, who is one of the nation's best-known business journalists, will speak at 2:30 p.m., Friday, Oct. 25, in the Fred W. Smith Forum at the Missouri School of Journalism. The event is free and open to the public.
Attendees will receive a free copy of her latest book on Warren Buffett: "Tap Dancing to Work: Warren Buffett on Practically Everything, 1966-2012," while supplies last.
Loomis graduated from the School in 1951, a time when women had few opportunities in journalism. She has been at Fortune Magazine for more than 50 years and has received many awards for her writing. Among these are four lifetime achievement awards: the Women's Economic Round Table award in 2000 for print journalists, of which she was the first recipient; Time Inc.'s Henry R. Luce Award in 2001; and the Society of American Business Editors and the Writers Distinguished Achievement Award, both in 2006.
Loomis received the Missouri Honor Medal for Distinguished Service in Journalism in 1978. She was one of seven top corporate leaders, journalists and strategic communicators to participate in "The President's Roundtable: Communication for a Digital Globe" during the School's 2008 centennial celebration.
Updated: July 21, 2020
Related Stories
Expand All
Collapse All
---