Laura Davison Named Inaugural Recipient of Carol Loomis Scholarship for Business Reporting
Loomis Will Be on Campus Friday, Oct. 25, to Speak, Award Scholarship
By Gwen Girsdansky
Columbia, Mo. (Oct. 22, 2013) — Missouri School of Journalism master's student Laura Davison, BJ '13, has been selected as the inaugural recipient of the Carol Loomis Scholarship for Business Reporting.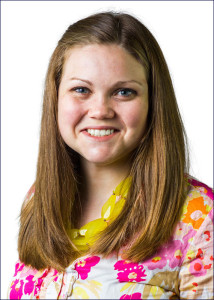 Carol Loomis, BJ '51, will be on campus to speak at 2:30 p.m., Friday, Oct. 25, in the Fred W. Smith Forum at the Missouri School of Journalism. Attendees will get a free copy of her latest book on Warren Buffett: "Tap Dancing to Work: Warren Buffett on Practically Everything, 1966-2012," while supplies last. Loomis also will present Davison with her scholarship.
Loomis is the longest-tenured employee at Fortune Magazine, where she has worked since 1954 and currently serves as a senior editor-at-large. She received the Missouri Honor Medal for Distinguished Service in Journalism in 1978. Loomis was one of seven top corporate leaders, journalists and strategic communicators to participate in "The President's Roundtable: Communication for a Digital Globe" during the School's 2008 centennial celebration.
"What I admire about Loomis is how she built this incredible legacy for herself," Davison said. "She grew up in Cole Camp, Mo., graduated from Mizzou and a few years later started at Fortune. She's been there for nearly 60 years now and worked her way up through the ranks."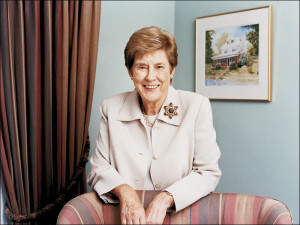 Loomis has profiled business all-stars like Warren Buffett and Sandy Weill and wrote compelling pieces on Holocaust survivors who became successful business owners. She has covered derivatives and accounting scandals. In honor of 60 years at Fortune, Loomis' friends and colleagues formed an annual scholarship for a graduate student at the Missouri School Journalism who is interested in pursuing a career in business journalism.
"Business section headlines from 2009-11 weren't always the most uplifting, but I was intrigued by the reporters' abilities to capture my attention and artfully explain subjects that make many college freshmen fall asleep in Econ 1000," Davison said. "I discovered good business journalism tugs at the purse strings and the heartstrings of its readers."
Davison's experience includes an internship with the Kansas City Business Journal and work as an online editor with the Missouri Business Alert. She is a member of the Online News Association and was one of 20 promising digital journalists to serve in the Student Newsroom of the national convention. Davison has also worked as a reporter with the RJI Futures Lab Update and Columbia Faith and Values.
"Business journalism isn't necessarily a top-of-mind interest for lots of people when they start journalism school, both as undergrads and grad students," Davison said. "But it's so important that businesses are held accountable and the public can understand the complex dealings in a global economy."
Updated: July 21, 2020
Related Stories
Expand All
Collapse All
---