Kelly Dereuck wins $7,000 Carol Loomis Scholarship for Business Reporting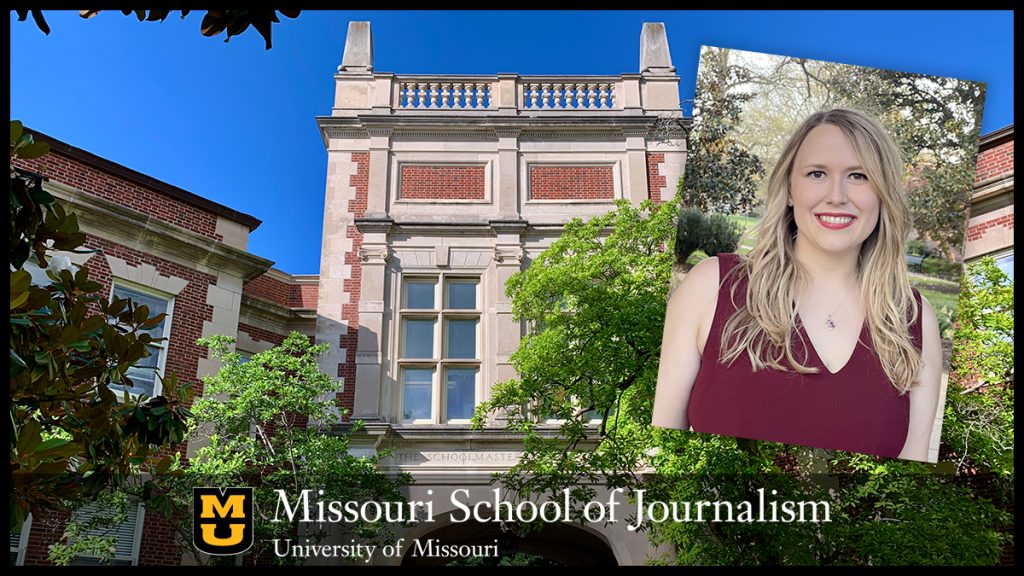 The scholarship isn't the first time Dereuck has benefitted from Loomis' legacy
Columbia, Mo. (July 6, 2022) — Kelly Dereuck, a graduate student at the Missouri School of Journalism, has been awarded the $7,000 Carol Loomis Scholarship for Business Reporting. The scholarship, named for the School of Journalism alum, Missouri Honor Medal recipient, and renowned former business writer at Fortune, goes to graduate students dedicated to excellent business reporting at the School.
"Like Carol Loomis, Kelly has excelled at the Missouri School of Journalism," said Randy Smith, founder and publisher of Missouri Business Alert and the Donald W. Reynolds Endowed Chair in Business Journalism. "She has taken every class in business journalism and contributed significantly to Missouri Business Alert. Her pathway in business journalism, paved by early legends like Loomis, is exceptionally bright."
Notably, Dereuck is from Loomis' hometown of Cole Camp, Missouri, and the connections don't end there. One of Dereuck's early positive influences was Cole Camp's Boonslick Regional Library, which was built and upgraded with donations from Loomis.
"This scholarship is more personal for me than most," Dereuck said. "The library is where I developed my love of reading, which led to my love of writing, so getting this scholarship means a lot and kind of brings things full circle."
But synchronicity aside, the scholarship's $7,000 award also has plenty of meaning for Dereuck on a practical level.
"This means I won't have to take any more student loans," she said. "It will allow me a bit more freedom in my career without having to quickly choose a job just to pay my debt immediately."
Dereuck, who earned her bachelor's degree from the School last May, has served as a reporter for Missouri Business Alert for more than two years, but her interest in business reporting goes beyond the writing itself. She's currently studying how journalists — particularly those acting as watchdogs — interact with the Freedom of Information Act. In that vein, she is also assisting investigative reporter Shoshana Walter, a 2021 Fellow of the Reynolds Journalism Institute's Watchdog Writers Group, with her research into America's opioid epidemic and the rehab industry.
While Dereuck ultimately hopes to pursue a doctoral degree, her current plan is to enter the job market after earning her master's degree with confidence gained from a Missouri Method education in hands-on business reporting. She's no stranger to mustering confidence, having returned to higher education to earn her bachelor's degree from the School as a nontraditional student, a move that required her to steel herself.
"It took confidence not to be afraid of the job market," she said. "But I did it, and I've been going strong ever since. When I get done with my degree, I want to continue to work in business journalism."
About Missouri Business Alert
Missouri Business Alert is a digital business journalism newsroom run by professionals and staffed by students from the University of Missouri. The newsroom has helped students launch careers at Bloomberg, CNBC, the Associated Press and other news organizations. It's one of six professional news outlets — including an NBC affiliate, an NPR member station, and a community newspaper — and two strategic communication agencies at the School of Journalism where students practice the Missouri Method of learning by doing.
Updated: July 6, 2022
Related Stories
Expand All
Collapse All
---