Sandy Davidson Honored with Prestigious Curators' Teaching Professorship
The Appointment Is One of the Most Prestigious Titles Granted in the University of Missouri System
By Rebecca Dell
Columbia, Mo. (Sept. 29, 2014) — Missouri School of Journalism professor Sandy Davidson has been awarded a Curators' Teaching Professorship, one of the most prestigious titles granted in the University of Missouri system. The appointment was effective Sept. 1.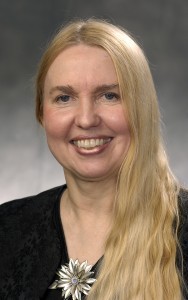 Davidson, who also serves as an adjunct professor in the University of Missouri School of Law, teaches communications law in the School of Journalism. Davidson earned her juris doctor from MU, where she graduated Order of the Coif, and her doctorate in philosophy from the University of Connecticut-Storrs. Davidson is the attorney for the Columbia Missourian, the digital-first community newspaper produced by students and faculty in the School of Journalism, and she has educated thousands of young journalists in First Amendment law. Davidson is a member of the School's journalism studies faculty.
Outside of the classroom, Davidson's written work includes"Leaks, Leakers, and Journalists: Adding Historical Context to the Age of WikiLeaks" and "Blood Money: When Media Expose Others to Risk of Bodily Harm," both published in the Hastings Communications and Entertainment Law Journal, and "Statutory Language for a Model Statute for Access to Government Records," published in the William & Mary Bill of Rights Journal.
Davidson's teaching awards include a William T. Kemper Fellowship for Teaching Excellence. Her other accolades include being named the Pi Beta Phi Professor of Excellence in 2003, receiving a Certificate of Appreciation from the MU chapter of the National Association of Black Journalists in 2002, and being named the Most Inspiring Professor at the 15th Annual Student-Athlete Academic Awards Breakfast in 2001. Davidson was the O.O. McIntyre Distinguished Professor from 2001-02 and was initiated into the Mystical Seven Honorary Faculty in 2000.
Faculty are nominated for the Curators' Professorship by peers or student organizations and recommended by the chancellor. Only 21 University of Missouri faculty and instructors have received a Curators' Teaching Professorship. Appointments last for five years, and the awardees are expected to serve as a resource for the University, give lectures at different campuses and help improve teaching at the University.
Davidson is one of only three MU professors to receive this award in 2014. She is the third School of Journalism professor to be named a Curators' Professor. Betty Winfield, a renown scholar in the area of political communication, was named a Curators' Distinguished Professor in 2003. Lee Wilkins, an international expert in the area of media ethics, was honored with a Curators' Teaching Professorship in 2009.
Updated: July 30, 2020
Related Stories
Expand All
Collapse All
---