Lee Wilkins Named a Prestigious Curators' Teaching Professorship
Columbia, Mo. (Jan. 15, 2009) — Lee Wilkins, a Missouri School of Journalism professor in the radio-television journalism emphasis area, has been awarded one of the University of Missouri's most prestigious honors, a Curators' Teaching Professorship.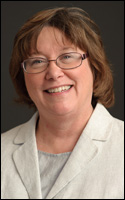 Wilkins is recognized around the world as an expert in the area of media ethics, and she has conducted important research on media coverage of the environment and risk communication. Wilkins is the co-author of one of the country's best-selling college ethics texts, Media Ethics: Issues and Cases. She is the editor of The Journal of Mass Media Ethics, the country's leading academic journal in that discipline. Named a Page Legacy Scholar from the Arthur W. Page Center in 2005, Wilkins received a $10,000 grant to support the study, The Moral Media: How Public Relations Professionals Reason about Ethics.
Wilkins has earned many honors including a Mizzou Alumni Association Faculty-Alumni Award, the William T. Kemper Award for Teaching Excellence and the O.O. McIntyre Distinguished Professorship. She has taught ethics as a visiting faculty member at the Poynter Institute in St. Petersburg, Fla., and she also holds a joint appointment with the Harry S. Truman School of Public Affairs at MU.
Wilkins is the second Missouri Journalism professor to receive high recognition by the UM Board of Curators. Betty Houchin Winfield, a renown scholar in the area of political communication, was named a Curators' Distinguished Professor in 2003.
The Curators' Teaching Professorship is awarded to the UM System's most successful and prominent educators, as identified by their departments and their peers in the field. Of the 7,600 UM faculty members, only 33 have been elevated to the rank of Curators' Teaching Professor. Wilkins is one of only three professors to receive this honor in 2009.
Updated: April 30, 2020
Related Stories
Expand All
Collapse All
---