O.O. McIntyre Fellow Will Tell Stories About Child Marriages in European Countries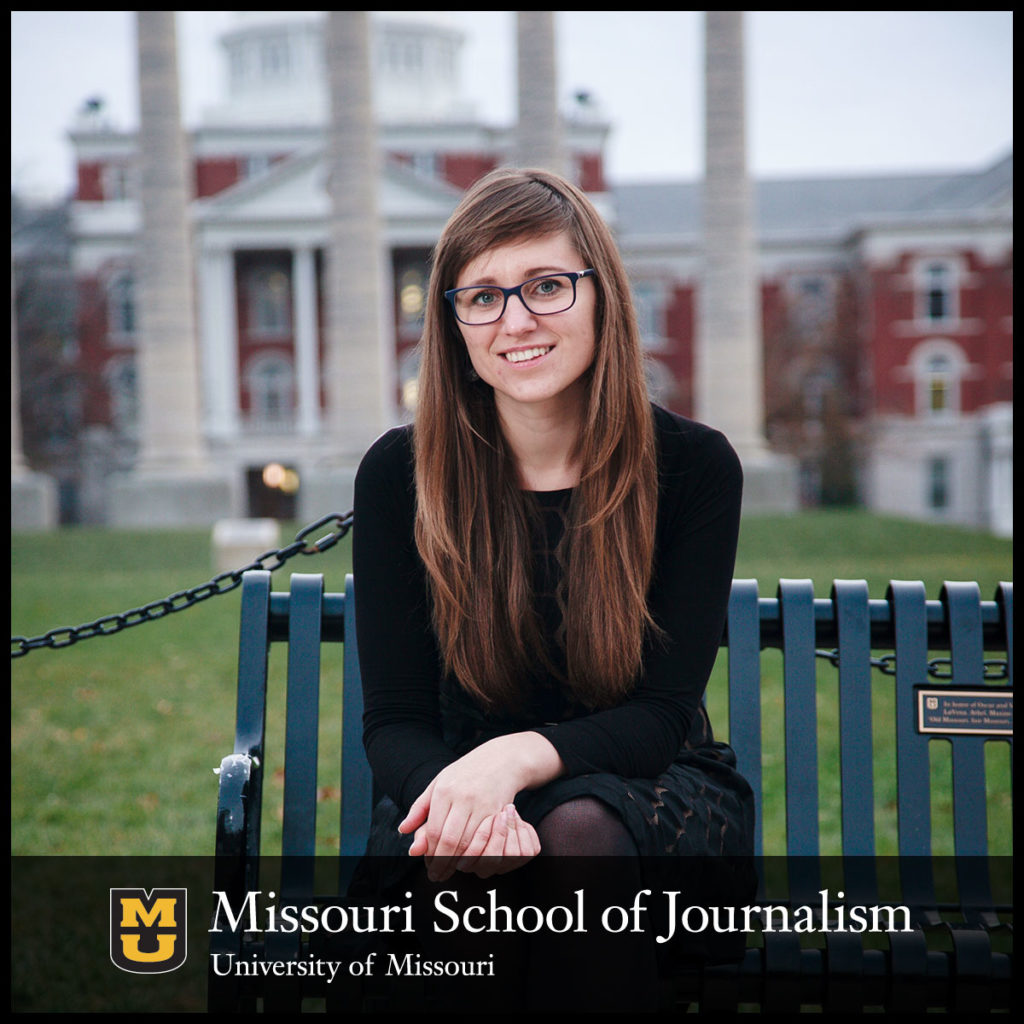 Zivile Raskauskaite, MA '16, is the winner of the 2017 O.O. McIntyre Fellowship, the most prestigious postgraduate award given by the Missouri School of Journalism.
Zivile Raskauskaite, MA '16, Wins $12,000 Stipend to Fund Her Reporting and Writing Project
Columbia, Mo. (May 21, 2017) – Alumna Zivile Raskauskaite, MA '16, is the winner of the 2017 O.O. McIntyre Fellowship, the most prestigious postgraduate award given by the Missouri School of Journalism.
The program's one-year, $12,000 stipend allows a recent graduate to delve deep into a reporting and writing project. Raskauskaite plans to use a combination of video, photos and text to tell stories and facts about child marriages in European countries. She will interview young women refugees living in Germany, the girls in Roma communities in Bulgaria and the young women living in low-income families in rural Moldova.
Raskauskaite, a multimedia journalist from Lithuania, has covered international news for Lithuanian news channel InfoTV, reported on migration topics for Deutsche Welle in Germany and produced multimedia stories from Israel for a TelAviv-based news agency Tazpit.
A Fulbright scholar, Raskauskaite participated in the school's Washington program. She interned at Voice of America where she produced daily news videos for social media and TV as well as worked on post-production of a documentary film about Boko Haram. Raskauskaite is a recipient of the White House Correspondents' Association scholarship.
At the Missouri School of Journalism, Raskauskaite produced the radio/TV show "Global Journalist," a half-hour weekly discussion on international affairs with panels of journalists and experts. Her produced stories, including ones about Bangladeshi bloggers, the Guatemalan election, Kurds in the Middle East, aired on KBIA, mid-Missouri's NPR affiliate.
Raskauskaite said the grant will allow her to pursue a cross-border journalism project in Moldova, Bulgaria and Germany. She will take a multimedia approach for "Through the Eyes of a Child-Bride in Europe," and explore the identity of young women in three different European countries who belong to communities where their fate to get married early is predetermined by poverty, long-lasting traditions and gender inequality. According to statistics, 11 percent of girls in Eastern Europe and Central Asia are married before the age of 18. Most of these early marriages are among marginalized ethnic groups.
"I want to give an intimate look at this phenomenon through the personal experiences of girls rather than through the reports and bare numbers," Raskauskaite said.
During her year of independent reporting, Raskauskaite will get in touch with young women who started to live an adult life in their teenage years and interview NGOs and experts who are analyzing the issue and working to improve the situation.
Raskauskaite said she came up with the idea for the project while working for Deutsche Welle in Bonn, Germany. While reporting for "InfoMigrants," a project that provides independent information for people seeking asylum in Europe, she talked about the challenges that women face with refugees from Syria, Afghanistan and Serbia.
Her project will be reported in three parts:
The first part of Raskauskaite's project will be about the girls coming to Germany and facing the marriage in the foreign country that is usually associated with freedom and equality.
The second part will tell stories of the young women who belong to Roma communities in Bulgaria. She will visit Kalaidzhi people, an orthodox Christian subgroup of the Roma community, who consider marriage as one of the most important and the highest achievement that girls can reach. The project also aims to determine if the traditional concept of family is changing.
The third part of the project will talk about girls and young women in Moldova's rural areas. Raskauskaite said Moldova is one of the poorest countries in Europe, and the percentage of child marriages reaches 12 percent in the country. She will report on the health of young brides and the dangers of early pregnancy.
"It is my hope that this type of reporting will grab attention and trigger a discussion about how to improve the situation of girls in rural Moldova, in Roma communities in Bulgaria, or how to ensure that women and children seeking asylum in Germany would be treated with justice and dignity," Raskauskaite said.
Updated: October 22, 2020
Related Stories
Expand All
Collapse All
---