Missouri School of Journalism Senior Wins $12,000 O.O. McIntyre Fellowship to Document "Lost Boys of Sudan" Reunion in Africa
Columbia, Mo. (April 25, 2007) — Jennifer Price and Abraham Lueth arrived as freshman on the University of Missouri-Columbia campus in 2003, both looking forward to the bright futures that higher education could help them achieve. Their pasts, however, could not have been more different.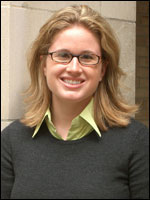 While Price hailed from Nashville, Tenn., Lueth had spent the past 15 years as one of the "Lost Boys of Sudan." Forced from his village of Dinka Boi, Sudan, in 1987 due to civil war, Lueth joined more than 20,000 Sudanese boys fleeing on foot to safety in Ethiopia. He lived there for three years, followed by nine years in Kenya before arriving in the United States in 2001.
Price met Lueth, a biology major, during their freshman year at MU, and his story changed the course of her college life.
"I became really interested in his story and passionate about Africa," said Price, now a senior newspaper journalism major and political science minor. "I framed several of my elective courses around African studies while continuing to pursue my journalism degree."
Now, as seniors, Price and Lueth's paths have crossed again. Price has won the $12,000 O.O. McIntyre Postgraduate Writing Fellowship, which will allow her to travel with Lueth back to Kenya and the Sudan as he reunites with his family, two decades after the terror that forced him to leave. Established in 1986, the annual McIntyre Fellowship helps aspiring writers further their careers.
The pair will leave in September for Africa, where Price will spend two months documenting the reunion for publication in The Kansas City Star. Covering Lueth's journey home will also be her own personal journey, Price said.
"Being able to observe Abraham reuniting with his family for the first time in more than 20 years is by far the most worthwhile part of this assignment," Price said. "I'm also looking forward to living in a vastly different culture for two months and challenging my reporting and writing skills."
During her tenure at Missouri, Price has honed those skills at the Columbia Missourian, the School's student-staffed, faculty-run daily community newspaper, and at premiere internships with the Associated Press in London, the Nashville Tennessean and the Cleveland Plain Dealer. In 2006, she won first place in the Missouri Press Association Better Newspapers Contest for an investigative report on the implications of sickle cell trait in the death of Missouri football player Aaron O'Neal, as well as third place for Best News Coverage of O'Neal's death. She also has placed in the In-Depth Writing category of the Hearst Awards competition.
"It is evident through the range and quality of Jennifer's work that she is an excellent reporter," said Brian Brooks, associate dean for undergraduate studies. "Her proposal is fascinating, and I know that she will exceed expectations once again in reporting from Africa."
To be eligible for the fellowship, applicants must have earned a recent bachelor's, master's or doctoral degree from the School of Journalism. Selection is based on several criteria, including a narrative explaining the nature of the research and writing, a project timetable and budget, letters of reference from journalism faculty and examples of published work. Daryl Moen, professor of journalism studies, chaired this year's selection committee.
O.O. McIntyre was one of the most widely known New York columnists during the 1920s and 1930s. His column, "New York Day by Day," was syndicated to 508 newspapers in every state, Canada and Mexico. Born in Plattsburg, Mo., McIntyre was raised in Gallipolis, Ohio, where he got his start in newspapers as a reporter for $5 a week. McIntyre died in 1938, and his widow, Maybelle, left part of his estate to the Missouri School of Journalism. In her will, she established the O.O. McIntyre Postgraduate Writing Fellowship to help aspiring writers.
Price will spend the summer reporting at the Arizona Republic in Phoenix on a Pulliam Fellowship, a prestigious 10-week training and workshop program. All the while, she will look forward to the story she has been waiting four years to tell.
"Winning this fellowship seems almost surreal because it's been a dream of mine for years," Price said. "I've tried several times before to set up this trip but financial barriers prevented me from succeeding. I'm thrilled and ecstatic and so thankful for the McIntyre Fellowship."
Updated: April 17, 2020
Related Stories
Expand All
Collapse All
---