New Website Lauds Work of Those Who Care for Mid-Missouri's Mentally Ill Population
Missouri School of Journalism Students Share Skill Sets to Produce the Project
By Jessica Cullen
Marketing Manager
Project 573
Columbia, Mo. (April 18, 2012) — A new multimedia website lauding the work of those who care for mid-Missouri residents with a mental illness will launch today.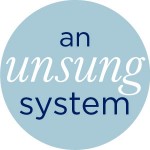 "An Unsung System" includes seven stories about people who offer assistance in various capacities to those who have a mental illness. From the deputy training given to officers on how to handle crises, to the public administrator who takes care of people when no one else can, to a "WARMline" operator who battled mental illness, to local emergency rooms that provide treatment, each person plays a unique role and is part of the safety net for those suffering from mental illness.
The public is invited to attend a presentation about "An Unsung System" at 11:20 a.m. on Wednesday, April 25, in the Fred W. Smith Forum at the Reynolds Journalism Institute. This program is one of many that will highlight insights and solutions during RJInnovation Week. An online community discussion about caring for those will mental illness will be scheduled for later this month.
Project 573, a group of nine Missouri School of Journalism seniors majoring in convergence journalism, photojournalism, print and digital news, radio-television journalism and strategic communication, produced the website. Project 573 serves as the students' final journalism class requirement for graduation and was first offered in the 2010-2011 academic year.
Each year the students enrolled in Project 573 choose a new topic that will allow for in-depth storytelling. This year the team identified their focus after holding two roundtable discussions, one with members of the healthcare industry and the other with mental health professionals. Both events helped guide the team to report on mental health in mid-Missouri.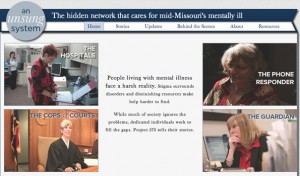 "We realized we had stumbled upon a topic that was under-reported and still provided opportunities to create compelling work," project co-leader Katy Bergen said. "The stories were there, but our roundtable participants let us know that no one was telling them."
In addition to Bergen, of Linwood, N.J., other students who worked on the project were: Angela Case, Edwardsville, Ill.; Jessica Cullen, Iowa City, Iowa; Ben Frederickson, Sedalia, Mo.; Blake Hanson, Apple Valley, Minn.; Laura Kebede, Culpeper, Va.; Christie Megura, Plano, Texas; Jessica Smith, Indianapolis; and Allan James Vestal, Lexington, Ky.
Professors Jacqui Banaszynski and Reuben Stern supervised the project.
"This team has immersed itself in the best of public service journalism," said Banaszynski, Knight Chair in Editing and winner of the 1988 Pulitzer Prize in feature writing. "They identified an issue of local concern, then worked to show how that issue affects all of us as a community."
Updated: June 5, 2020
Related Stories
Expand All
Collapse All
---