Health Journalism Fellowships Awarded to 9 Missouri Students and Professionals
Recipients Will Attend the 'Health Journalism 2015' Conference April 23-26 in Silicon Valley
Columbia, Mo. (March 20, 2015) — A record five Missouri School of Journalism students and four on-campus professionals have been awarded all-expenses-paid fellowships to Health Journalism 2015, the annual conference of the Association of Health Care Journalists.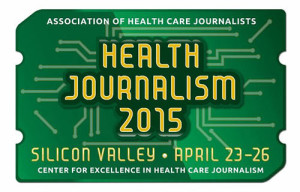 Master's student Guimel Sibingo and seniors Jessica Mensch, Shale Remien, Hope Kirwan and Amanda LaBrot will join more than 600 journalists, journalism students and journalism instructors in attending the conference planned for April 23-26 in Silicon Valley. Along with their classes, the student winners also work for the School's professional, community-based news outlets: KOMU-TV, KBIA-FM and the Columbia Missourian.
Also awarded fellowships were Sara Hiles, an assistant professor at the School; Kristofer Husted, Harvest Public Media reporter at KBIA; Bram Sable-Smith, health reporter at KBIA; and Rebecca Smith, a reporter and producer at KBIA.
Headquartered at the Missouri School of Journalism, AHCJ is a nonprofit professional organization dedicated to advancing public understanding of health care issues through improved health reporting. This year marks the 10th anniversary on campus for the association and its supporting Center for Excellence in Health Care Journalism. Since AHCJ moved its operations to the Missouri campus from the University of Minnesota in 2005, the organization's membership has doubled to about 1,500 journalists across the United States and in 20 other countries.
The fellowships were awarded through two different programs administered by AHCJ. One is supported by the Missouri Foundation for Health and is aimed at Missouri-based reporters. The other is supported by the Leona M. and Harry B. Helmsley Charitable Trust and is aimed at college journalism students and instructors. Ten universities are represented in the academic fellowships this year.
"We are lucky to have so many students interested in health, science and public policy at the Missouri School of Journalism," said Associate Professor Len Bruzzese, AHCJ's executive director. "Our graduates are finding new and exciting ways to use their knowledge and their passion in pursuing careers."
Updated: August 4, 2020
Related Stories
Expand All
Collapse All
---