Missouri School of Journalism is home to a student videographer with an impressive portfolio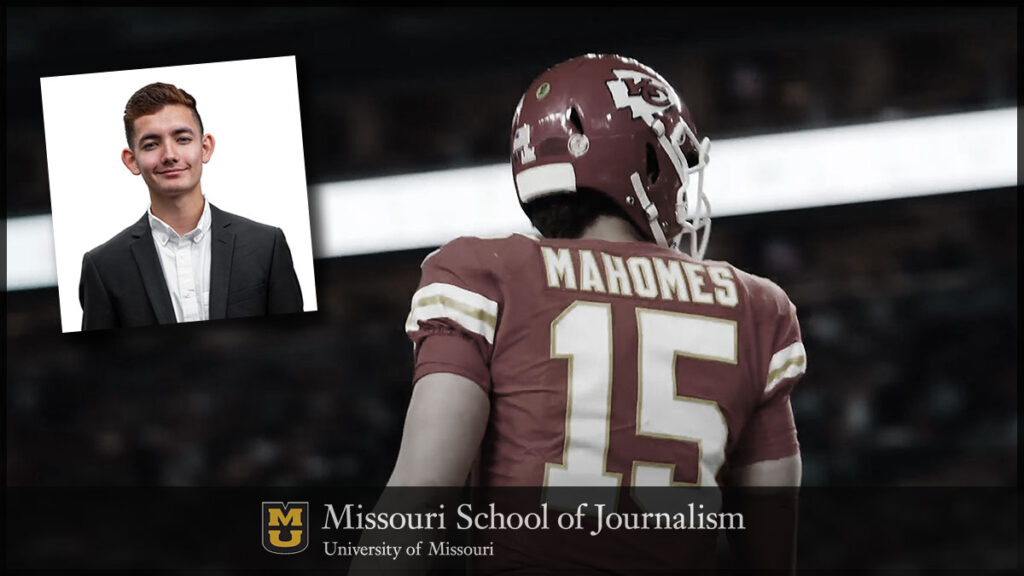 By Zach Taylor
Columbia, Mo. (Nov. 11, 2020) — A Missouri School of Journalism student has racked up more than 11 million views across all social media platforms for his videos, but he's never appeared in front of the camera. Instead, he's become a sought-after videographer who has worked with Bad Bunny, Tyreek Hill and Devin Bush, among others.
When Diego Galicia arrived on Mizzou's campus in 2017, he never anticipated what was to come. In fact, his first order of business was to find a job because his mom told him that she "wasn't going to be his bank." She suggested that he apply at a dining hall or the library, but Diego had other ideas.
In high school, Galicia dreamed of working for ESPN, so he joined the school newspaper in pursuit. He found his niche with the video announcements team, and spent much of his day planning, filming and editing video. He started taking cues from Complex, GQ and Noisey YouTube videos to develop his skill set, and filmed fake music videos and skits with his friends for fun. "I caught the video bug," said Galicia, who has had a passion for videography ever since. When his mom told him he had to find a job, his first thought was to follow his passion.
So, Galicia reached out to R.J. Layton, the associate director of Mizzou Athletics, and asked if he had any openings. Galicia's portfolio impressed Layton, who offered him a salaried position. "Before I even knew what the Missouri Method was, I was networking and finding work wherever possible," said Galicia. "I like to learn on the fly."
Mizzou Hoops Jersey Reveal Video from Diego Galicia on Vimeo.
Galicia's go-get-it attitude fits right in at the Missouri School of Journalism, which prides itself on providing its students with a hands-on learning experience. Though Galicia picked up much of what he knows about videography on his own, he says the strategic communication program has taught him how to form narratives and create brand love. He also appreciates the connections he has made with Mizzou alumni.
One such alumnus Galicia connected with is Bryndon Minter, a social video manager with the NFL. They met on Instagram, and when Galicia saw a post on Minter's story about a job opening with the NFL LLC program in Kansas City, Missouri, Galicia jumped on the opportunity.
Given his love of sports, Galicia wanted to get as close to the action as possible. He was always a huge fan of the Kansas City Chiefs, his hometown NFL team. Here he was, a sophomore in college, working on the sideline at Kansas City Chiefs' football games, taking photos and videos of his idols who were an arm's length away.
When the Chiefs advanced to Super Bowl LIV, they brought Galicia with them. By this time, he was an integral part of their media team. "This is one of my favorite projects," said Galicia. "I couldn't believe my eyes – thankfully, my camera was able to capture what my mind wasn't."
Galicia's work with the NFL didn't go unnoticed. Fresh Tape Media, a creative production agency based in Denver, offered him a job as a junior creative in June 2019. Always eager for opportunities to grow as an artist, Galicia accepted the position and began working at high profile events such as the Latin Grammys, MLS All-Star Weekend and NBA Draft. Last spring, he was flown out to New York City, where he leveraged his Spanish fluency to work with Bad Bunny on a Twitter video.
Galicia has grown tremendously as a professional during his time at Mizzou, but he recognizes there is still lots of room for growth. "I'm always looking for inspiration," said Galicia. "What I enjoy seeing the most is authenticity."
One particular inspiration of Galicia's is Gunner Stahl, a photographer known for his work with musicians like Drake, Billie Eilish and Mac Miller. The hallmark of Stahl's style is authenticity. He takes photos in the moment and avoids staging scenes or using complicated lighting systems.
Stahl's aesthetic inspired Galicia to bring a disposable camera to all of the Chiefs' games he attends. Galicia likes the genuine feel of the photos the disposable camera takes.
Going forward, Galicia has dreams of working at the highest level of the videography industry. "I want to work on movies," he said. "I'm doing higher-end production now, and I'd love to get to the point where I can work with the best of the best." Alternatively, Galicia thinks it would be cool to be the creative director for a creative cultural space like GQ, Adidas or Complex.
Whichever direction Galicia goes with his career, the formative years he spent at Mizzou will serve him well. "I'm so glad I made the decision to come to Mizzou," said Galicia. "I wouldn't be on the same path I'm on right now if it weren't for the Mizzou community."
Updated: November 23, 2020
Related Stories
Expand All
Collapse All
---