Mizzou Alumna Candace Buckner, BJ '02, Talks Sports Journalism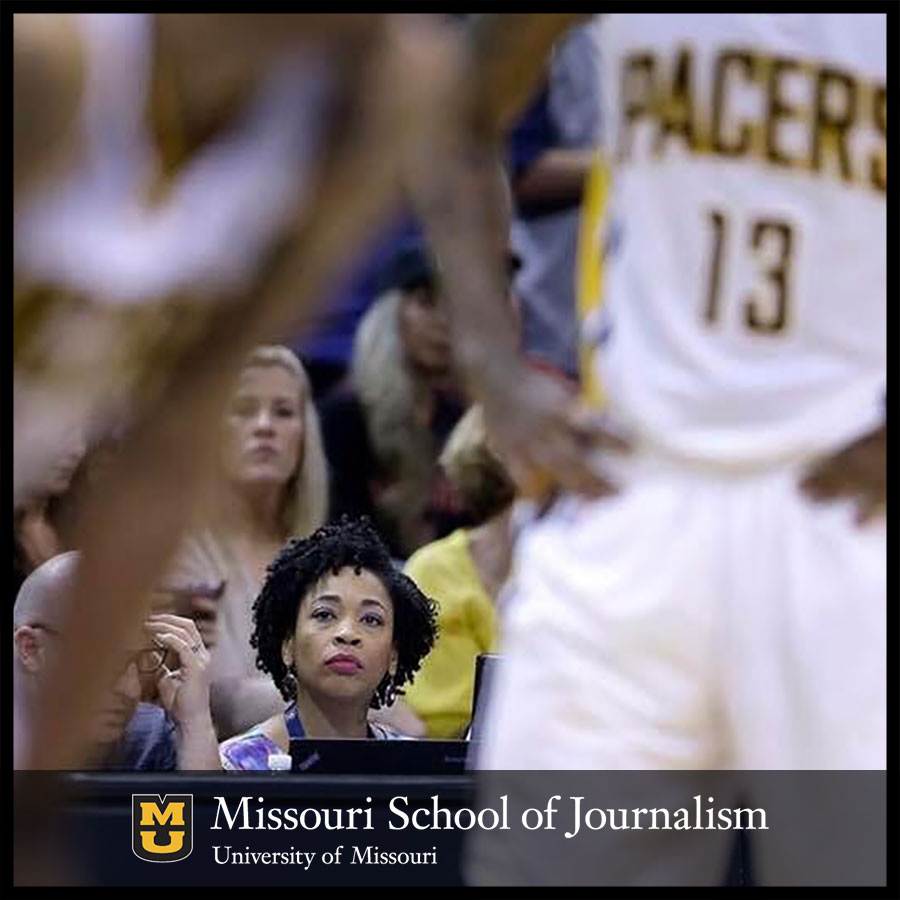 Columbia, Mo. (Sept. 1, 2017) — Inside Sports recently interviewed Candace Buckner, BJ '02, who covers the NBA's Washington Wizards for the Washington Post. Her past stops include the Kansas City Star, the Vancouver (Wash.) Columbian and the Indianapolis Star.
Although she has primarily worked as a writer and reporter for print/digital outlets, Buckner took the broadcast track while at the J-School.
Inside Sports: How did the Missouri School of Journalism prepare you for what you do now?
Candace Buckner: It's funny, because if I take that question literally, I don't know…because I was a broadcast journalism major. But it has prepared me a lot. It prepared me for the real world, whether it was working at the NBC affiliate in Columbia or getting some opportunities to cover Mizzou athletics for one of the secondary papers at that time. It really prepared me for what I was about to face and what I had no clue was out there.
Inside Sports: What would you tell someone deciding between the broadcast interest area and the print/digital emphasis area?
Buckner: I would say, and it sounds pretty cliche, but follow your heart. Throughout my childhood, I always thought I was going to be on TV. I thought I was going to be the NBC sideline reporter. It dates me to tell you how old I am because there are no games on NBC anymore. I thought I was going to do that. All throughout my childhood, that was what I wanted to do. It wasn't until I got this internship [at the Columbus Ledger-Enquirer through the Sports Journalism Institute] the summer before my senior year that I realized I am way better at writing than trying to articulate a story in two-and-a-half minutes. I was pretty adamant that this is what I wanted to do. Even though it was too late in my collegiate career for me to look back and really start emphasizing print and digital, I was still able to follow my passion. My advice would be, if you are torn, be honest with yourself. What do you enjoy doing more than anything else? If you like producing and creating stories in a very short time frame and being in control of the broadcast element, then that is what you should do. But I enjoy taking my time and really getting into the written word and expressing myself that way. That's why I am here.
Inside Sports: How has your broadcast education helped you as a writer?
Buckner: So far, I have not used the video element. My coworkers have done some great stories where there has been a great video element and visual component to the story, but I have yet to do that. I have pretty much focused on my beat. I know I can because, even when I left school, I would make videos. I would write and direct videos, so I know I can do it. I just haven't had the time and patience to do it. Right now, with a broadcast journalism degree, I haven't used my literal degree in a while. But everything I learned at Mizzou, whether it was magazine, digital, newspaper or broadcast, they teach you the fundamentals and basics of good journalism. I know with those four years, I was confident to take on anything. If you look closely at my resume, I have been all over America for jobs and I have been able to – and I say this humbly – excel and get to a place I never dreamed I would be in the Washington Post. I was prepared for it.
Inside Sports: What does it take to do your daily job at the Washington Post?
Buckner: To be a beat reporter, half of it is making sure you are around and know your stuff. Knowing context, being able to just look at a Tuesday game in January and write, "this is what happened…" but understanding the storylines and what that Tuesday game in January really means in the bigger picture. To do my job, I just really need to be embedded with the team. Obviously, I don't travel on their charter planes, but everywhere they go, I go. Road games, personal events – you want to go to those, too, to build relationships with these guys and get to know them to be able to understand what is going on behind the scenes and to tell the story that is not on television. Any fan can watch the game or watch highlights on SportsCenter. To do my job, I have to be able to understand what is going on instead of what is in front of everybody.
Inside Sports: What advice would you offer for young sports journalists?
Buckner: If I could go back and talk to 19-year-old Candace, I would definitely tell her she needs to read more, she needs to read voraciously. "I was in the broadcast track, so I was thinking I want to be on TV. I just do sound bites." No, you need to read. You still need to be able to put sentences together. You still need to be able to think creatively and be able to tell a story even if it is just for 90 seconds or a package for two minutes. If you aren't doing that now as a student, I would say start. There are college discounts for newspapers. If not, it is still very cheap to get a digital subscription, especially at the Washington Post. Not to sound like a company woman, but I do believe we are one of the best, if not the best, outlets for journalism. I would strongly suggest someone pick up a newspaper or read one online every single day. Read nonfiction. Read things that are not part of an assignment or English class and learn from it.
Besides that, networking is so important. Yeah, it is a lot of what you know. Once you get in the door, you are going to have to carry yourself. But how do you get in the door? By knowing people. You have to network and be genuine about it and you have to be persistent about it. You have to let people know who the heck you are. That is what I would definitely recommend to students. And work. Intern. Take chances. You have to work on your craft, so figure out what your voice is. Try to get someone to critique you constructively but honestly. Learn and grow.
Inside Sports: What is your favorite sports journalism memory?
Buckner: I am horrible at answering questions like "favorite" and "top five" even though I ask those questions all the time of other people…I have had so many great experiences in journalism. It has allowed me to cover a lot of things. I still want to cover the Olympics. That is still on the bucket list. I still want to travel overseas for a story.
I would say I was pretty proud of a story I did in Kansas City. I was covering high schools. I worked on an investigative piece about a particular high school that was a basketball factory and the front was a high school. They tried to lure all these top-notch talents and kids with promises of all these tournaments, new shoes and top gear. Really, it was not accredited by the state and it was run by a conman. He was taking advantage of kids who had these hoop dreams. That took months, but I was really proud of the piece that came out of it.
Updated: October 23, 2020
Related Stories
Expand All
Collapse All
---