Brett Dawson to lead Columbia Missourian sports coverage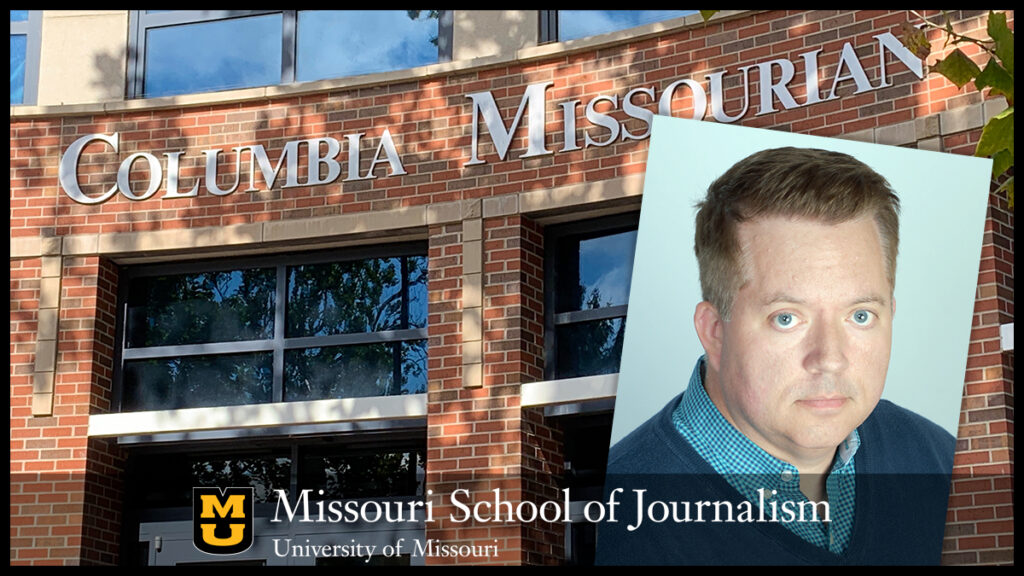 The award-winning journalist brings national storytelling experience to the Missouri School of Journalism
Columbia, Mo. (Feb. 12, 2021) – Brett Dawson, a veteran sports reporter, is the new sports editor for the Columbia Missourian. He will also serve as an assistant professor of professional practice on the Missouri School of Journalism faculty. Dawson was selected from a national pool of candidates.
The Columbia Missourian is a community morning newspaper that serves the approximately 175,000 citizens in and around Boone County, and is one of the School of Journalism's hands-on, real-media outlets that provides professional experience for students. This learning-by-doing method continues to be the gold standard for training journalists, and the demand for training in sports journalism has never been higher. 
In addition to overseeing the daily sports coverage in a rapidly changing organization, Dawson will also serve as a lab instructor in reporting classes and teach the sports journalism class. 
Dean David Kurpius said Dawson's work experience will complement the training of future sports journalists.
"We are thrilled to have Brett join our award-winning newsroom, the Columbia Missourian," said Kurpius. "He is a solid leader whose work experience covering SEC collegiate sports and national professional sports teams will contribute to his ability to successfully mentor our students and help them pursue a career in sports reporting."
 Missourian reporters cover a wide range of sports, producing multimedia packages for Mizzou's participation in the SEC Conference as well as area school and community sports activities. They report on societal issues that intersect with sports and follow collegiate athletes who are involved in professional sports.
"My career in sports journalism owes so much to the mentorship I received early on, and I've tried to give the same to young reporters I've encountered over the years," Dawson said. "It's a genuine thrill for me to bring that passion to the Missouri School of Journalism and the Missourian. I'm excited to work alongside the talented faculty and some of the brightest aspiring young journalists in the world."
A graduate of the University of Kentucky, Dawson spent the first 15 years of his career covering college basketball and football, including Illinois at the News-Gazette in Champaign, Ill, and Kentucky at The Courier-Journal in Louisville, Ky. He has also covered the NBA at The Advocate in New Orleans and The Oklahoman in Oklahoma City. Most recently, Dawson worked for The Athletic covering Oklahoma City Thunder, the Los Angeles Lakers and the L.A. Clippers.
Dawson's passion for writing makes him a natural to lead and mentor students as they work on developing their sports journalism talent across media platforms, said Ruby Bailey, the Missourian's executive editor and the Missouri Newspaper Management Chair.
"Brett's experience and enthusiasm and a desire to connect with our journalists and our community makes him a great fit for the Missourian," said Bailey. "We're lucky to have him and I can't wait to see his impact on sports coverage in Columbia."
The Missourian is recognized annually for outstanding journalism by the Missouri Press Association and annually earns awards in various national competitions for college journalism students. Additionally, the sports desk brings home top awards from the Associated Press Sports Editors. The national contest recognizes excellence in professional sports writing. 
"The Missourian has a long history of producing compelling, informative stories and the school is renowned for fostering in its students the skills they need to thrive in the journalism world outside its walls," Dawson said.  "I'm honored to play whatever part I can in continuing these traditions."
Columbia Missourian
The Columbia Missourian is a digital-first community newsroom that covers news and sports. The paper is supervised by professional editors and staffed by Missouri School of Journalism students who do the reporting, copy editing, design, photography and multimedia. This hands-on teaching of learning-by-doing is called "The Missouri Method." The published work is optimized for social media, mobile and web, with the print editions delivered five-days-a-week. The publication was founded in 1908 as a community newspaper.
Updated: February 12, 2021
Related Stories
Expand All
Collapse All
---