U.S. Ambassador to New Zealand and Samoa Features Missouri School of Journalism, University of Missouri on His Website
Columbia, Mo. (Feb. 12, 2013) — David Huebner, the U.S. Ambassador to New Zealand and Samoa, featured the Missouri School of Journalism and other University of Missouri areas in a recent blog entry.
The Feb. 5 article is the 11th in Huebner's installment in his series about great American universities in an effort to help New Zealand youth identify high quality educational opportunities abroad. The Missouri School of Journalism has an exchange agreement with Auckland University of Technology (AUT) that allows Missouri students to spend a semester in New Zealand, and AUT students to take courses at Missouri.
Drew Dumas, BJ '10, serves as Huebner's educational adviser. Dumas helped develop the content for this article and the others.
The article provides an overview of the University, its schools and colleges and academic programs. It includes numerous photographs of campus and various student events and activities.
Huebner highlights the following about the School: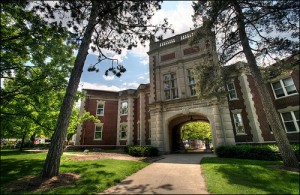 "Journalism has been one of the University's many academic strengths since Mizzou established the world's first school of journalism on September 14, 1908. The program is internationally well regarded for the depth and diversity of its courses and for its 'hands-on' approach. It consistently places high in elite rankings, particularly with respect to post-graduation job placement.
"There is great flexibility to craft your own custom curriculum, and students may choose from a wide range of work/study environments including a local NBC newsroom (the only commercial affiliate newsroom used for university training in the country), a public radio studio, the local newspaper or magazine, and alternative studios such as Newsy. The famous "Missouri Method" puts students in a position to actually write, lay out, report, or produce the news, rather than simply observe professionals.
"Drew tells me that the journalism school excels in networking, each week bringing speakers to town from media giants such as Google, CNN, and the Associated Press to interact directly with students. Also, there's a powerful Mizzou Mafia — composed of the large number of prominent alumni of the journalism school — which actively seeks and hires Mizzou grads."
Huebner was nominated by President Barack Obama for the ambassador position, and he presented his credentials to the New Zealand Governor-General the Honorable Sir Anand Satyanand on Dec. 9, 2009, and to His Highness Tui Atua Tupua Tamasese Efi of the Independent State of Samoa on Feb. 23, 2010.
Updated: July 13, 2020
Related Stories
Expand All
Collapse All
---