Strategic Communication student is right on target with unique hobby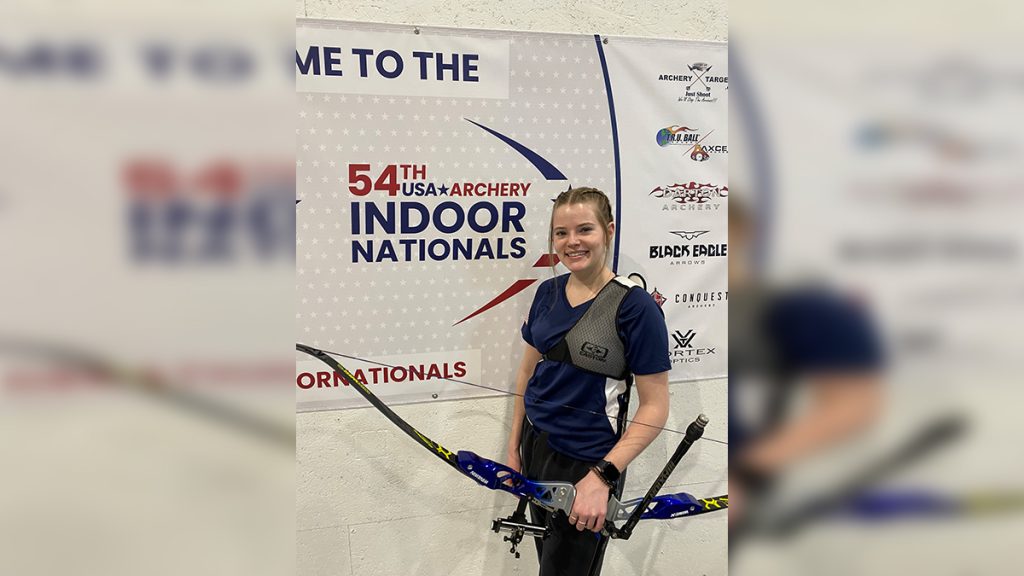 Emily Wilson has balanced being a student and competing on the Archery Junior Olympic team for 11 years and counting, while also attending Nationals annually
By Lexi Symonds
When prompted to explain the sport of archery, the first thing Missouri School of Journalism junior Emily Wilson prefaces is that it's not anything like what people see from the famous movie character, Katniss Everdeen of the Hunger Games trilogy. The sport holds many misconceptions that Wilson is used to deflecting.
"I transferred schools in fifth grade and my parents thought I needed to make new friends somehow," said Wilson, who is originally from Colorado. "I looked into summer camps and saw archery as an activity. It looked cool and different, so I tried it out and really loved it and quickly got involved."
Once Wilson's dad saw her passion for the sport, he began to shake the dust from his childhood archery hobby and started to accompany his daughter to the range. Wilson and her dad started to practice together as a shared bonding experience.
Archery competitions are relatively the same every time, providing a predictability aspect Wilson appreciates. There is a set of rules and regulations, ranging from what can go on your archery bow to the number of rounds played, that every state must follow as dictated by USA Archery.
"Anyone can compete in competitions with no qualifications," said Wilson. "You just sign up for your age and division. That's what I love about the sport, it's not exclusive. People come from all over different states and backgrounds."
Wilson carves out a couple hours in her schedule in between classes and extracurricular meetings to practice shooting at her local Columbia range, Powder Horn Guns and Archery. She utilizes this time to practice her form and focus on reconnecting with the sport.
"I love how archery is an individual sport, but there is also such a big community as well," said Wilson. "When I am practicing and competing it is just me, myself, and I. If I succeed it's on me, and if I fail it's on me."
Wilson plans to graduate from Mizzou in spring 2024 and with dreams of working for National Geographic or for an advertising agency before considering a career with archery.
"Every time I compete I'm like, 'Yes, I want to do this for the rest of my life.' But realistically it's a really fun hobby and it takes a lot to get on the U.S. team," said Wilson. "I want to get my degree first and see how I feel after college. Anyone of any age can go to the Olympics and compete on the Olympic team so the options are endless."
Whether or not Wilson decides to pursue archery professionally, she will always share the hobby with her father, who has accompanied her to nationals for the past six years.
"I really enjoy shooting with my dad," said Wilson. "In fact, I look forward to it every year. It is a break from life, for him from work, and for me from school. As long as we're both still going, we're going to go shoot together."
Updated: March 27, 2023
Related Stories
Expand All
Collapse All
---