Alumni Profile: Brandon Butcher
Columbia, Mo. (May 11, 2016) — Brandon Butcher, BJ '07, remembers playing soccer with other talented soccer players during his undergrad years. A soccer enthusiast, he began at Mizzou as a practice squad player helping the Mizzou women's soccer team prepare for its NCAA season. Through this experience, he was inspired to start a men's club soccer program.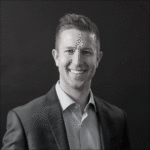 Three months after that initial idea, Butcher had the team registered. That first year the team qualified for the national championships; three years later they won the whole thing. Through the process, Butcher learned valuable lessons about leadership and teamwork.
After graduating from Mizzou, Butcher moved to The Richards Group in Dallas as an interactive brand manager. In this position, he learned to rely on a team to produce work on accounts such as Zales, Quick Trip, Southern Methodist University, Children's Health and Gander Mountain.
"I was able to add tremendous value to my teams and clients because of the knowledge and experience with which Mizzou sent me into the workplace," Butcher said. "My philosophy was that each individual has something to offer; a skill, talent or perspective that can make the work better. You must have [the] humility to recognize this and be willing to work hard to serve those individuals and empower them to do great work."
After his successful time at The Richards Group, Butcher has returned to Columbia as an adjunct professor at the Missouri School of Journalism. Mentoring is a big reason that he returned to Mizzou, feeling it is important that to teach undergraduates some of the important lessons that he has learned through his life and career.
Having worked in both an academic environment and an agency environment, Butcher has found the two share similar characteristics. For instance, Butcher says that skills of teamwork, management, communication and facilitating creative and strategic thinking are present in both the academic and agency setting.
Butcher's tip to prospective strategic communication students is to "be curious [and] don't be afraid to innovate or try new things." After all, he went from kicking a soccer ball down a field in a practice squad to creating a national championship club team. By keeping an open mind and thinking outside of the box, Butcher is proof that anything is possible.
Updated: September 25, 2020
Related Stories
Expand All
Collapse All
---