Undergraduate Researcher to Present Original Scholarly Work at Premiere International Academic Meeting
Columbia, Mo. (April 18, 2007) — This week's Undergraduate Research Day at the State Capitol in Jefferson City, Mo., was a dress rehearsal for senior Rachel Bailey, a strategic communication and psychology double major from Iberia, Mo. In May, Bailey and her faculty mentor, Paul Bolls, assistant professor of strategic communication, will present their original scholarly research to the annual meeting of the International Communication Association in San Francisco, Calif. – a rare achievement for an undergraduate student.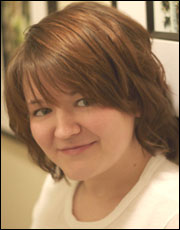 At the Capitol, Bailey was one of about 50 undergraduates from the four campuses of the University of Missouri system who showcased their scholarly work to state legislators, other governmental officials and members of the public.
Bolls said the enthusiasm and intelligence of students such as Bailey makes it possible for Missouri Journalism faculty members to provide and enhance research opportunities for undergraduates at the School.
"Rachel's dedication to research has actually made me think more critically about my own research program," Bolls said. "Thanks to all the brilliant undergraduates we've been able to work with in the PRIME Lab, the Missouri School of Journalism is going to gain a reputation at international academic conferences as a program that not only is an outstanding professional school but also engages undergraduates at a deeper scholarly level by involving them in producing cutting-edge knowledge."
Bailey originally came to the Missouri School of Journalism with the hope of becoming a magazine writer. Over time, however, her interests shifted, and she changed her journalism emphasis to strategic communication. While taking assistant professor Kevin Wise's strategic communication research course, Bailey learned about the School's PRIME Lab, which measures responses to media using psychophysiological methods, such as observing changes in heart rate and levels of perspiration. These measures help researchers understand how individuals' attention and memory change in response to various stimuli, such as political advertisements or anti-smoking messages.
Bailey visited with Wise and Bolls about working with the PRIME Lab, and Bolls quickly put her to work on a research project.
"I thought it sounded right up my alley," Bailey said. "I sort of made myself available to do whatever he needed, and he assigned me to start doing research on a project."
Together, Bailey and Bolls designed a project to examine how sex appeal in advertisements affects viewers' responses to the ads. Specifically, they wanted to determine how much attention viewers gave to the ads, how exciting the viewers found the ads and if the viewers' reactions were positive or negative.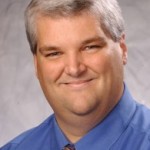 As Bailey and Bolls continued to work on the project, Bolls encouraged Bailey to apply for funding available through the MU Undergraduate Research Scholars program, which provides research grant money to undergraduates from all majors. Participants in the MUURS Program work with a faculty mentor to create new knowledge through original research. In addition, the undergraduates attend weekly seminars about skills, such as public speaking, that will help them excel as graduate students and in their academic careers.
"As soon as [Professor Bolls] found out I'd work hard and be self-sufficient, he told me I should go for it," Bailey said.
Unlike some other research projects she has been a part of as an undergraduate, Bailey said, in the PRIME Lab, she found herself making decisions and conducting the experiment – with support from Bolls, of course.
"In some of the lab research projects I've worked on, I was the grunt-worker, the paperwork-pusher, the phone-call maker," Bailey said. "But in the PRIME Lab, they'll kind of let you do as much as you're willing to do there."
In addition to the intellectual benefits she has received from conducting her own original research, Bailey said her mentoring relationship with Bolls has been important to her success.
"He has my life planned out for me," Bailey said. "He helps me make decisions about personal conflicts, research issues and life issues. He's a very wonderful researcher, professor and mentor. I know I wouldn't have been as successful without him."
To encourage more Missouri undergraduates to become interested in research, Bailey has become one of the University's Undergraduate Research Ambassadors, a program that helps students learn about research and funding opportunities, especially in the humanities and social sciences.
"I try to get undergraduates involved in all things research, especially if they're thinking about going to medical school, graduate school and things like that," Bailey said.
In her opinion, too few students know about academic opportunities available to undergraduates outside the classroom.
"As an undergraduate, you don't really realize that your professors have a life outside of class, that they're working hard all the time on their research," Bailey said. "There's a whole different world here at Mizzou because it's Research I [a special designation that indicates that an institution grants numerous doctoral degrees and has a very high level of research productivity], and we try to make that part of our message as Research Ambassadors."
Bailey plans to complete her master's degree through the School's five-year bachelor's/master's program. She said she might consider applying to doctoral programs after working in the strategic communication field for several years.
Updated: April 16, 2020
Related Stories
Expand All
Collapse All
---