MU Freshman Casey Lewis' Interest in Style Led Her to Create a Fashion Blog
Missouri journalism freshman Casey Lewis has already managed to break into the fashion writing world without getting coffee and answering phones, the method popularized in the recent best-selling book and hit movie "The Devil Wears Prada." As the creator and editor of the popular fashion blog teenfashionista.com, Lewis shares insights and useful information on a variety of topics, from how to dress for finals week to attending Fashion Week in New York.
---
By Robyn Correll
Columbia Missourian
At age 3, Casey Lewis was telling her mom how to dress.
Donned in a thought-to-be-chic – yet casual – outfit, Gabel Lewis turned to see skepticism on her daughter's face.
"I thought I had a great looking sweat suit on," Gabel Lewis said. "And she actually said to me 'You're not wearing that to the grocery store, are you?'"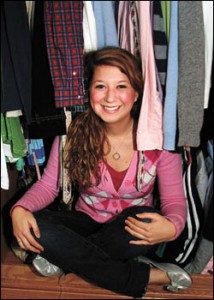 Now a 19-year-old freshman journalism student at MU, Casey Lewis is still making fashion waves. She began her career writing for fashion.about.com and now dabbles in freelance writing about fashion.
Gaining the most attention, however, is her fashion blog: TeenFashionista.com, which Lewis said gets 20,000 hits a month.
On her Web site, Lewis' profile includes a threatening promise to Vogue magazine editor-in-chief Anna Wintour, stating she's "determined to take Ms. Wintour's job right out from under her pointy Manolos."
Her blog entries pay tribute to her favorite motifs: Kate Moss, ballet flats and Teen Vogue.
But kill the stereotypes. The self-proclaimed "fashionista" writes about more than just the Carolina Herrera collection. Entries about family, music, social trends, TV shows and even politics also appear.
"It's not frivolous fashion," mentor Cynthia Nellis of fashion.about.com said. "It's smart."
Lewis, who is from Palmyra in eastern Missouri, first started working with Nellis at age 13. Nursing a broken leg after a sledding accident, Lewis was desperate for entertainment. She surfed around fashion sites on the Internet and landed on Nellis'.
"I spent a lot of time on that Web site, and I noticed that the teen part of that site wasn't updated that often," Lewis said. So she began e-mailing Nellis questions and soon offered to write for her. Nellis accepted, after getting Lewis' mom's permission.
"As a seventh-grader being from a tiny rural town, I was like 'Wow, are you serious?,'" Lewis said.
Nellis said she was surprised by the teenage Lewis' mature voice and writing style.
"She is really, really talented," Nellis said. "She wrote like she was a 35-year-old."
While Lewis was in high school, Nellis encouraged her to create her own Web site. The product was simple.
"It wasn't very professional really," Lewis said. "I wrote about trends and gave advice."
Her junior year in high school, she made the shift to blogger.com.
"Once blogging became more common, I realized the format was perfect for what I wanted to do," she said. "It's just a really easy going format that I can update often."
After TeenFashionista.com took off, Lewis continued to write celebrity style profiles, shopping picks, general tips, and fashion advice for Nellis, as well as serving as a fashion reference and freelance writer for Web sites and newspapers such as the Seattle Times and USA Today. Last year, Nellis invited Lewis to Fashion Week in New York City.
"She was so excited about New York, and that's kind of how I feel about New York," Nellis said, noting that Lewis recognized every celebrity and every editor at the event.
"She's a small-town girl, but she's got this city heart," Gabel Lewis said of her daughter.
The transition into college was rocky, Casey Lewis said. The residence hall where she lives lacks Internet access, forcing her to truck her MacBook computer to and from campus buildings to blog.
"I just couldn't get around to updating," she said. "I didn't have access."
She was concerned her readers would think she had forgotten about them. But the problem was soon fixed, and now it's back to smooth sailing.
Probably the biggest change, Lewis said, was telling her friends about her Web site. In high school, Lewis kept her blog under wraps.
"No one really got it," she said. "So I didn't talk about it much. Coming to college, so many of the friends I've made are into fashion."
Offline, she's a family fashion consultant.
"She's really honest with people," Gabel Lewis said. "When she shops with you, she'll definitely give her opinion." She said her daughter often tries to get her out of "teacher clothes."
Although she has a strong interest in fashion trends, Lewis said she has a classic style.
"I love to write about trends and throw out fashion advice, but when it comes to my own closet, I dress very classically," she said. "I like to buy things that I'll be able to wear for a very long time."
But in spite of her own subtle wardrobe, Lewis has strong opinions about what people should and shouldn't wear.
"I cannot stand the ankle boots. I hate the ankle-boot trend with skirts," she said. "Wear tall boots, wear flats, but don't wear the ankle boots."
Updated: April 16, 2020
Related Stories
Expand All
Collapse All
---